What's included?
Guided walking tour
Street food samples
Seasonal dessert
2 Drinks
72 hr cancellation policy
10% discount on more tours
Key information
From April to October at 6.30 pm
Meet us at Teatro Massimo
Duration: 3 hrs
Small group: Max 10
English
NOT adaptable for vegetarians
Vegan, gluten / dairy free options not available
Free Cancellation up to 72 hrs before the tour starts
Reviews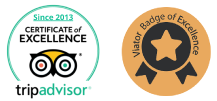 "Must Experience!" Stefany (GER)
All you can possibly wish for when booking a food-tour: Walking with Salvo makes you feel like a local for a night.
"Highlight of our trip" Sabijn (NED)
Angelo brought us another dimension to this already amazing city. We saw, heard, smelled and tasted true Palermo.
"Local Food with a Friend" Pia (GER)
Very entertaining and insightful tour! Marco created an atmosphere of getting food with a friend.
"Best tour ever" Kelsey (USA)
This is hands down the best food tour we have ever been on! It was a tour of history, food and alcohol!
"Perfect mood" Shirin (UK)
It exceeded all my expectations. Our guide Salvo created a relaxed atmosphere where it was easy to talk. I made new friends!
Tour description
Do you want to skip the summer morning heat and have a relaxing evening walk? Would you like to make it complete by enjoying some delicious street food?We've got you covered! Come join our night street food tour of Palermo. We will walk you around the backstreets of the old city center to devour a wide range of traditional Sicilian street foods carefully selected by our local guides.
What you'll do
The Palermo night food tour is a perfect way to kick off your visit in Palermo as it provides a food and cultural overview of the city. It starts with a welcome drink. You will raise your Sicilian sparkling wine as our host serves an interesting selection of Sicilian bruschetta. This happens at our favorite wine bar where we normally gather to design new tours or celebrate birthdays. After this warm-up stop, we will push you into the most vibrant street food area of Palermo to try some unique night-time bites.We will take you to our favorite street food vendors like the legendary Mr Rocky and only eat what they make best.
The Palermo night tour of street food isn't just about food. You will get a cultural walking tour, a food experience, and a night out with new friends from all over the world…all wrapped in one! Three intense hours with a local laid-back guide to make you feel Palermo.You will get interesting insights into the city life and guide's funny stories. This tour is also a great option for solo travelers who want to make new friends! The Palermo night food tour starts from Teatro Massimo and ends in piazza Fonderia, near the old port.
What you'll eat
The Palermo night street food tour is your chance to try the rare rascatura croquette, crunchy fritters, the soft Sicilian pizza, the super sexy crostino with ham, and of course, just like it happens on all Streaty tours… some challenging bites! Be ready for it. You have two drinks included, a Sicilian wine and another at your choice. The Palermo night street food walking tour ends at our favorite Gelateria, where only the toughest foodies can manage to survive the huge brioche col gelato!
Must know: Traditional Sicilian street food is Fat, often Fried and Full of carbs. We simply offer what locals eat. Wanna know more about street food in Palermo? read this!
Why join this tour

ESCAPE the morning heat and enjoy a relaxing backstreet walk with a local

TASTE some interesting night specialties you would hardly find (or try) on your own

DEVOUR a seasonal dessert at our favorite pastry shop

DISCUSS freely about food, history and controversial topics with your local guide

MEET the vendors and make new friends with other travelers!

GET the best tips to enjoy Palermo and avoid tourist traps
Book Now