Streaty is an Italian tour operator based in Palermo (Sicily), the place where all the story begun. We are the pioneers of street food tours in Italy. Following the successful Palermo experience, we decided to expand our tasty business in other cities. We now run street food walking tours in Palermo, Catania, Venice and Florence.
Our mission is to deliver authentic food experiences.
Our guiding principle is very easy. We walk travellers around as they were friends visiting us in town. Streaty attitude is very easy and laid-back. We share with foodies the same tips and stories we would share with our friends without filters of any kind.
We see food as the beating heart of a culture, carrying in its flavours memories from the past and unveiling the intimate secrets of locals' daily life. We are all Italian, passionate about our native city and​​ its cuisine. Unlike other competitors, we have all the required licenses and operate in compliance with the Italian Tourism Law. Italian food is our passion… from North to South! Take a look at our Venice street food tour and know more about what we offer!
By choosing us instead of illegal guides (often presented on the web as "local experts") you do contribute to support a sustainable form of tourism.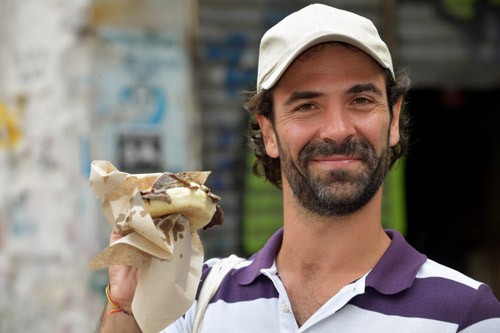 Streaty CEO & Palermo Guide
MARCO
Hi, my name is Marco, I'm 37 years old, born and raised in Palermo. I'm the owner of Streaty. I speak English and Arabic language. I love eating, drinking and cooking. Travelling is my oxygen. I also like surfing, snowboarding, playing soccer and…rock'n'roll!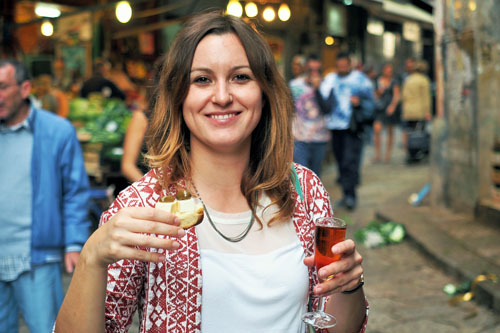 Streaty Associate & Tour Leader
GLENDA
Hi! My name is Glenda, I'm 33 years, I come from Bassano del Grappa (Veneto region).
I'm a licensed tour leader for English and Spanish language. I manage the Streaty booking system. I'm an outdoorsy person, fond for hiking, skiing and rock festivals.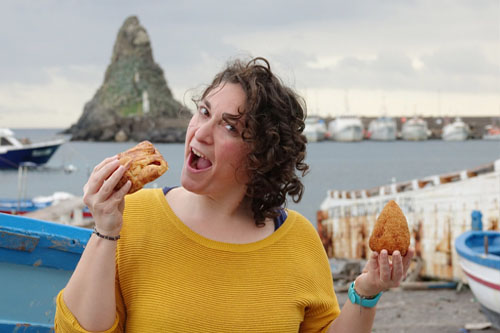 Streaty Catania Guide
AGATA
Nice to meet you! My name is Agata, born, fed and raised at the feet of Mount Etna. I love traveling with my cute red trolley loaded with pistachios destined to my foreign friends! I speak English and Spanigh. Get your belly-pack ready when you come strolling around Catania with me!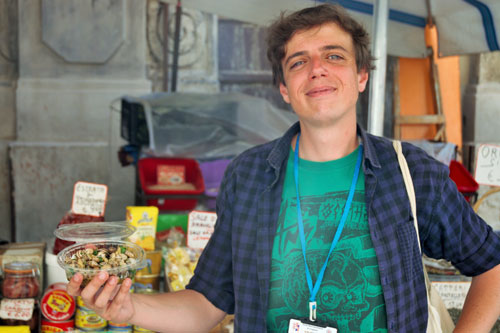 Streaty Palermo Guide
ANGELO
Hi my name is Angelo, I'm 33 years old, pure Sicilian. I'm originally from a small town called Sant'Angelo Muxaro but I grew up in Palermo. How to make me happy? give me a good book, a good beer, a good guitar riff and some greasy street food!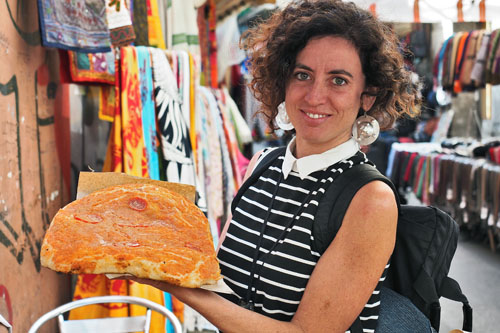 Streaty Palermo Guide
NAIDA
Hi, my name is Naida, I'm 38 years old, born and raised in Palermo, graduated in History of Arts. I'm a market geek. Working as a tour guide makes me feel like traveling in my own city! I travel as much as I can but I can't stay away from Palermo for long.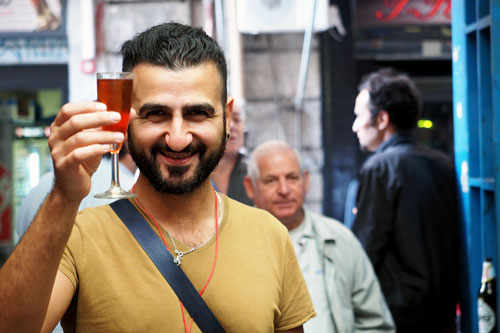 Streaty Catania Guide
AURELIANO
Hi my name is Aureliano, I'm 38 years old from Viagrande, a little town on the south hip of Mount Etna. I live with my dog Flavio and my beloved spices! I have an unconditioned love for food and by the way I'm also a cook! Traveling is not an option to me, it's a must.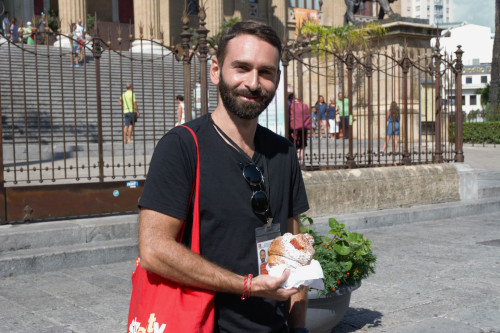 Streaty Palermo Guide
SALVO
Hi there, I'm Salvo, 35 years old, born and raised in the fishing district of Palermo. I studied history of Arts at the University of Palermo. I love doing sports outdoors, I climb and I dive, up and down! I like arts…especially in the kitchen! I cook, but I also eat!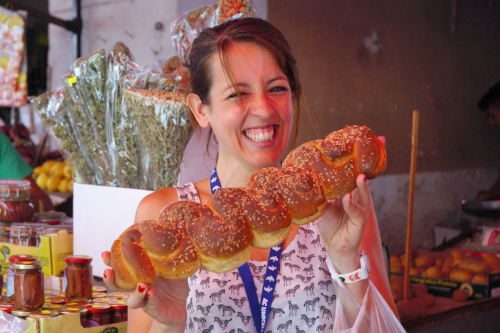 Streaty Palermo Guide
RAFFAELLA
Nice to meet you Streaties! I'm Raffaella, 34 years old, born and raised in Palermo. I studied English and Spanish language at the University of Palermo. Anytime I can, I travel! In my past life I was probably a maremaid, the sea is my habitat, fish is my food.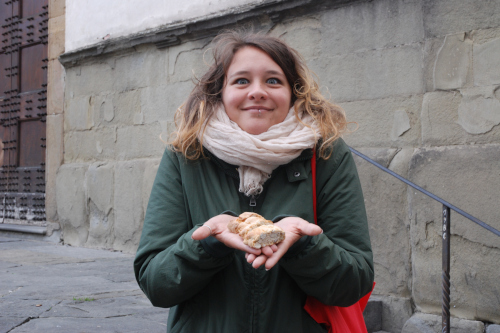 Streaty Florence Guide
ALICE
Alice is my name, 25 years is my age, Florence is my city and my love. I inherited one precious thing from my grandmother, passione for food! I cannot walk anywhere without my music. IF you don't see me around eating or walking, you will find me home watching TV series!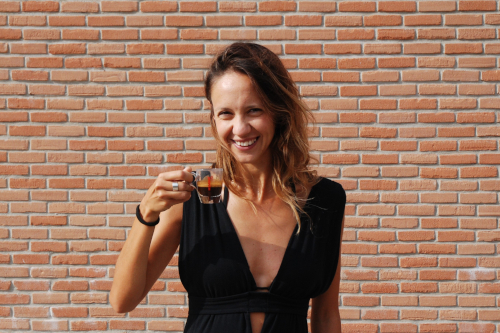 Streaty Venice Guide
ANNACHIARA

I'm Annachiara, orginally from Turin, but I studied in Venice, my beloved Venice. People say that I'm a bit crazy and I take it as a compliment! 🙂 I warn you…I like talking 🙂 can't wait to step in the bacari of Venice and have a toast with you!
Streaty Venice Guide
FEDERICO
Wozzup? My name is Federico, 31 years old from Veneto. I'm a tour guide for english language. I love running streaty tours in Venice coz I basically go to the same places where I hang out with my friends after work! I pick travel destinations based on two things: nature and food!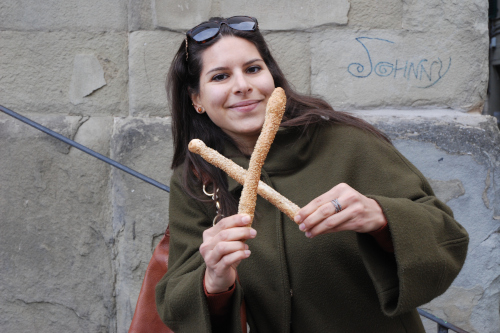 Streaty Florence Guide
ILARIA
Hi everyone! My name is Ilaria and I'm a Florentine-born guide, fond with street-art and photography. I love travelling looking for hidden corners and, as a sweets-addicted, for new desserts to taste. Come get a glass of Chianti with on Streaty Florence tour!