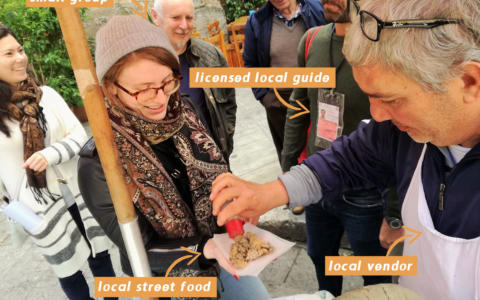 We run street food and local market walking tours addressed to curious travellers and foodies and guided by young Italian professionals.
Our mission is to provide authentic food experiences making travellers catch the uniqueness of each single regional cuisine: have you already book our Catania street food tour? The Sicilian capital' street food is quite challenging!
All food guides are local. Indeed we believe that only Italians can bring their own culture into life!
Why choose us? We are the most experienced street food tour company in Italy. Streaty staff is made of passionate foodies and travellers who put all their efforts to provide visitors a memorable day. We see travelers as friends, we take them to the same spots we would normally go to eat and drink with friends. We offer real food in real places away from tourist traps, all vendors are carefully selected based on quality of food and authenticity of the location. Streaty guides enrich the experience by giving travellers historical hints and telling stories untold by guidebooks. Our small group tours allow travellers to have enjoyable experiences ensuring them a constant interaction with their guides and the vendors. It is not in our interest to gather big groups to make more money! We want to promote a sustainable form of tourism based on the respect of both locals' daily life and travellers' hunger of discovery. Our goal is to make you discover super famous italian cities with different eyes, beyond the classic (and boring!) tourist routes. For example, you can live a truly new Florence experience with our street food tour in Florence!
TRAVEL SUSTAINABLE
While traveling, your choices impacts on the environment, society, and economy. Watch out for alluring low prices on the web: there are many companies running tours with illegal guides without paying any taxes. This type of unfair competition have negative socio-economic repercussions on sustainable tourism. According to the Italian law, all companies and guides must have a license issued by the regional government. To avoid troubles with the Italian Tourist Police, always ask your guide to show the badge before starting a tour.
Go safe, Choose Streaty! Streaty is an authorized tour company. All Streaty guides are regularly licensed, covered by an insurance and pay taxes. You can make the difference. Travel sustainable! 🙂