We collaborate with bloggers, travel writers and TV productions
Marco and the Streaty team are always happy to join TV shows and collaborate with travel journalists and food bloggers in order to promote Sicily and its cuisine. We also provide fixer services and put at your disposal our local contacts. In few words, we can make things happen.
We appeared on Rick Stein's and Paul Hollywood's shows
Streaty guides joined many Italian and International tv shows as local food experts. Among the most successfull shows we can't but mention Rick Stein's Long Weekends episode in Palermo. Streaty manager Marco joined the program taking Rick Stein around the markets day and night to eat the streets of Palermo. During the 5 day shooting in Palermo, the Streaty team also provided fixer's service facilitating the communication between the BBC2 crew, the local vendors and institutions. Watch: Rick Stein's Long Weekends: Palermo – Episode 10
The famous English baker Paul Hollywood visited Palermo in 2017 to shoot an episode of Food Network's program City Bakes. As local street food expert, Streaty CEO Marco joined the shooting for few scenes, challenging the English celeb to eat some hardcore street specialties!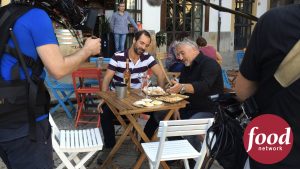 Streaty on magazines: Jamie's and more
Streaty contributed to the making of many food articles, being often mentioned as a must do whene visiting one of the towns we run tours in. We appeared on Jamie Oliver's magazine in the article called "under the Volcano", dedicate to Catania and its cuisine. We appeared twice on The Guardian but also on National Geographic, GEO, Vanity Fair, Ryanair and Wizzair inflight magazine and many more.
We are recommended on Rick Steve's and Lonely Planet guidebooks
In 2018 Streaty was recommended by Rick Steves' blog as the food tour to do in Palermo. We had the pleasure to host his official editor on the Palermo morning street food tour, and he loved it! Read full article. We now appear on Rick Steves' guidebook to Sicily. In 2020 we also entered the Lonely Planet guidebook to Sicily.
What we offer
We are happy to help writers and producers in the field. We can support you in various ways:
We can join your show as local experts
We can provide information and contacts for your travel and food article
We can provide photos and videos (with copyrights)