Cosa è incluso?
Tour guidato
Assaggi cibo di strada
2 Bevande
Dolce stagionale
Cancellazione fino a 3 giorni
10% di sconto su altri tour
Informazioni
Aprile - Ottobre alle ore 18.30
Appuntamento al Teatro Massimo
Durata: 3 ore
Massimo 10 partecipanti
In inglese
NON adatto a vegetariani
NOT suitable for vegetarians and pescatarians
Non adatto per vegani, celiaci e allergici ai latticini
Cancellazione gratuita fino a 72 ore prima del tour
Reviews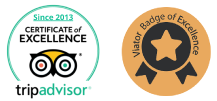 "Must Experience!" Stefany (GER)
All you can possibly wish for when booking a food-tour: Walking with Salvo makes you feel like a local for a night.
"Highlight of our trip" Sabijn (NED)
Angelo brought us another dimension to this already amazing city. We saw, heard, smelled and tasted true Palermo.
"Local Food with a Friend" Pia (GER)
Very entertaining and insightful tour! Marco created an atmosphere of getting food with a friend.
"Best tour ever" Kelsey (USA)
This is hands down the best food tour we have ever been on! It was a tour of history, food and alcohol!
"Perfect mood" Shirin (UK)
It exceeded all my expectations. Our guide Salvo created a relaxed atmosphere where it was easy to talk. I made new friends!
Descrizione tour
Ecco a voi la soluzione per evitare il caldo della mattina e godersi una serata in spensieratezza passeggiando tra i vicoli della Vucciria, e degustando il miglior cibo di strada serale. Un'avventura culinaria di tre ore arricchita dalle storie delle nostre guide locali.
Cosa farete
Incontrerete la vostra guida e i compagni di avventura al centralissimo teatro massimo. Da qui, ci sposteremo nel quartiere dell'Olivella per aprire l'avventura con un brindisi di benvenuto. Un buon bicchiere di vino spumante siciliano e una selezione di bruschette del giorno preparate dal nostro oste. Il tour serale del cibo di strada palermitano prosegue per la Mecca della vita notturna palermitana: la Vucciria.
Vi guideremo tra i vicoli più bui del centro storico offrendo una differente prospettiva della città di Palermo e della sua vibrante quotidianità. Sarà l'occasione per ammirare alcune gemme nascoste ma soprattutto per conoscere le specialità notturne della cucina di strada. Durante lo street food tour serale di Palermo degusterete i pezzi più importanti della cucina di strada locale e non solo! Dallo sconosciuto crostino con prosciutto e besciamella, alle panelle di ceci, dalle crocchette di patate e menta alla ricercatissima rascatura. Gli assaggi vengono effettuati presso venditori ambulanti e friggitorie a conduzione familiare, selezionate in base alla qualità del cibo offerto ed all'autenticità del luogo. Durante la passeggiata serale la guida racconterà di Palermo e della sua evoluzione urbanistica, narrerà storie di strada (es. Santa Rosalia, giorni dell'inquisizione) e analizzerà tematiche sociali di maggiore interesse. Il tour serale dello street food a Palermo termina in piazza Fonderia o nell'elegante piazza San Domenico, palcoscenico barocco dell'ultima sfida mangereccia: la minacciosa brioche col gelato!
Cosa mangerete
Durante il tour gastronomico serale di Palermo, degusterete i classici fritti (panelle di ceci, Crocchè di patate, rascatura e crostino), ma anche il rinomato panino con la milza, lo Sfincione bagherese, dello bruschette d'autore ed infine una buona brioche col gelato. Ovviamente arricchiremo l'esperienza con un paio di brindisi tra taverne e friggitorie locali. La quantità di cibo offerta in questo tour sostituisce un pasto completo. 
Perchè fare questo tour

 ESPLORA i vicoli del centro storico con una guida locale

 BRINDA alla vita e fai nuovi amici

 INCONTRA i venditori ed i personaggi di strada

DIVORA alcune specialità sconosciute ai turisti

 RACCOGLI le migliori dritte per goderti il resto del soggiorno a Palermo
Prenota ora