What's included?
Guided walking tour
10 Sicilian Recipes and Delicacies
Seasonal dessert
3 Wines
Water
10% discount on more tours
Key information
Tuesday to Saturday at 11 AM
Via Principe di Belmonte
Duration: 4 hrs
max 10
English only
Suitable for vegetarians
Suitable for pescatarians
Free Cancellation up to 72 hrs before the tour starts
Reviews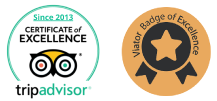 "It felt special!" Jaime (MEX)
Thanks to Streaty we managed to eat at a restaurants that was fully booked to the public!
"Great combination!" Tim (UK)
We enjoyed very much the variety of food offered on this tour. From pastas to fresh mediterranean style recipes
Tour description
There you go! The inimitable flavors of the mediterranean world are served!
Rule number 1: come hungry! You are going to devour the top quality Palermitan cuisine at 5 different food stations: a deli shop, a Sicilian wine bar, a Palermitan trattoria, a cheese shop and finally a patisserie. Only the most authentic dishes at the top quality restaurants that you may hardly succeed to book on your own! Be a VIP foodie with Streaty.
What you'll do
We will greet and welcome you at the pedestrian street of Via Principe di Belmonte, few minutes away from the port and the two main opera houses downtown. All Streaty guides are local and know their stuff and you will realize this as soon as the tour starts. The first place is largely renowned among Palermitans as the top deli shop in town and it is basically invisible for non locals. We will make it visible and enjoyable for you! Along the walk you will have the chance to admire some historical attractions and learn about facts you wouldn't read on guidebooks. The second stop is dedicated to some fine delicacies. Take a comfort seat, raise a glass of Sicilian wine and enjoy a delicious selection of fine and rare products, such as the Tuna bottarga. If you have joined another Streaty experience before, you know that our tours are not just about eating, we want you to feel and experience the city in deep! Our local guides drew for you an itinerary that also gives you the chance to discover a unique place, a second-hand street bookshop hidden in a shady alley. The street bookshop is run by an elegant and welcoming Sicilian gentleman. Feel free to bring a book and exchange it with one of those exposed at the bookshop, or simply choose a book and make your own price! Yes, we will feed you with a little bit of culture before reaching the pasta stop! We will have a table reserved for you and the other travel mates in one of the best traditional trattorias in town. We will sit and open the curtains of the homemade cuisine: two different types of pasta and some other seasonal dish. The pasta with sardines is probably the "localest" of the recipes in the capital of Sicily, a recipes that can tell you centuries of the local history. A very peculiar taste that you may not like…but still…that you must try it if you want to understand the local cuisine.
We won't let your mouth dry. You will get wine at three out of the five stops. You will raise the third glass of wine at the urban cheese factory of Palermo. Yes, right in the middle of the city center there is a new cheese shop that produces its own dairy products and serve tasty dishes. If you are a cheese lover, stick around your guide! The host will make a fresh mozzarella just for you!
So what is this tour about? The traditional sicilian cuisine tour of Palermo is a foodie walk, yes! It's a food experience, yes! It's a cultural tour, yes! It's a chance to make new friends in a cheerful environment, oh yes! It is all of this compressed in a 4 hr relaxing walking tour of Palermo.
Just like all Streaty tours, the goodbye moment won't come without a final dessert, and when we say Sicilian pastries, we say…forget about it! Your streaty guide will choose for you the best seasonal sweet treat, maybe a Sicilian cannolo, maybe gelato or an orgasmic chocolate cake! Just rely on us, we mean business.
What you'll eat
The tasty attraction of this tour is the traditional Sicilian homemade food, the recipes that Palermitans commonly make at home for specific celebrations or specific time of the year. We have selected a numerous type of samples and few of them are totally unknown among the tourists. On this tour you will eat a fried panzerotto, tuna bottarga, veg caponata, 2 different types of pasta, traditional appetizers or second course, the pan cooked caciocavallo cheese and a freshly made mozzarella. Tour ends with a seasonal pastry.
Do not expect to eat arancini on this tour! Arancini is street food and must be eaten in the market. So if you want to try the best arancini in Palermo, join our Palermo street food and local market tour.
Why join this tour

EXPLORE the streets of Palermo with a local guide

TASTE the best Pasta with sardines in town!

LEARN about food history and street stories

EXCHANGE a book at the hidden street bookshop

GET the best tips to enjoy Palermo and avoid tourist traps
Is this the right tour for you?
✅ This is the perfect tour for foodie travelers who want to try new flavors, learn about local culture and make new friends. Seats are guaranteed at 3 out of 5 stops. This tour is suitable for travelers of all ages and it does not require a specific level of fit. The entire distance covered is 2.2Km / 1,3 miles. We are able to offer gluten free and dairy free options at 4 out of 5 food stations. 
❌ This tour is not suitable for:
Vegans
Picky eaters (we do not accomodate travelers' tastes. We only offer what locals eat)
Book Now