What's included?
Guided walking tour
Street food samples
Seasonal dessert
2 Drinks
Food Passport
Free Cancellation up to 24 hrs before the tour starts
Key information
All week at 11 am (except Sundays)
Starting from San Giacomo di Rialto
Duration: 3 hrs
up to 8 travelers
Offered in English
Vegetarian samples not available at every stop
Vegan, gluten / dairy free options not available
Free Cancellation up to 72 hrs before the tour starts
Reviews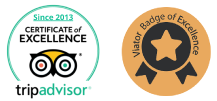 "I will do it again" Carson (USA)
We had so much fun with Federico. The history of Venice, the market, the food! Do it, you will have a blast!
"Get this chance!" Lisa (UK)
You won't only try some of the lesser known local foods and drinks, you'll also learn the history and culture behind them.
"Real Venice" Wendy (CAN)
Seeing the city through local's eyes is an invaluable experience and Streaty does it best!
"Brilliant guide" Holly (UK)
One of the best tours ever. Federico was a fantastic & enthusiastic guide. It really was like taking a walk with a friend.
"Memorable tour" Nicola (CAN)
Annachiara is charismatic, engaging and knows so much about Venetian food and history. She treated us like old friends. The three hours flew by!
Tour description
The Rialto market is not a monument. Rialto market is now, it's still alive and it's a must of yourVenietian visit. So, why visit the market with a local guide? We let one of our clients speak "city through a local's eyes, and learning about then city through the lens of food, is an invaluable experience. Welcome to the Venice Rialto market food tour exploration!
What you'll do
We will meet you at the church of San Giacomo in Rialto, ready to dive into the scented and colored Rialto food market. Bench by bench we will take a look at the fresh products of the day. We will enjoy Venetians' life the way it is, slow. Before you get to try some good recipes you will see where the vendors go to shop their fresh products. We will tell you about the history of the market and other interesting stories to make you understand what this place really means for the locals.
Food is always around the corner in Venice! The question is, which one? Just rely on us. On our Venice street food and Rialto market tour we will take you to our favorite places to eat and drink the best that Venice has to offer on that day.  We will walk you into the most authentic wine bars (Bacari) to let you try a wide variety of local cicchetti (tr. Venetian tapas). One stop is dedicated to the most famous food treat of Venice, the baccalà (cod fish). Venetians cook it in so many ways, just pick your favorite! The food tour of Venice isn't just about food and drinks, in fact, during this three hours you will also learn about the city and the life in the lagoon. You'll start seeing Venice through Venetians' eyes! To reach our final sweet stop we will have to get on the Venetian gondola traghetto. Nothing touristy, just what Venetians do every day to short cut their way back home. Call it a cool experience or just a normal daily life in Venice.
What to expect from the Venice food tour? just expect to have a relaxing walk with your new local friend, expect to learn about Venetian culture, expect to enjoy good food and good drink…expect good time!
What you'll eat and drink
On our Venice street food tour and Rialto market exploration you will try several samples that will replace a full meal. You will eat so-called cicchetti, which consist of sliced bread or corn mash topped with various ingredients, mainly strong-flavored fish, but also vegetables, cheese and cold cuts. You have included two drinks, one traditional ombra wine and one spritz. The end of the tour celebrates the sweet side of Venice, a tiramisu or dry buranelli cookies will make a happy goodbye moment. Must know that we never miss a chance to offer some challenging specialty of the day, like the seasonal  and exclusive fried crabs!
Why join this tour

EXPLORE the market of Rialto with a local food expert

LEARN about Venetian everyday life through the eyes of a local

TASTE a wide variety of fresh cicchetti at our favorite taverns (No tourist traps!)

TRY the local experience of crossing the Gran Canal like Venetians do

INTERACT freely with your guide and have a cheerful toast with new friends

GET the best advises on what to do in Venice and surroundings
Book Now