What's included?
Guided walking tour
5 wines
Local tapas and dessert
72 hr cancellation policy
10% discount on more tours
Key information
All year starting at 5 pm
Meet us in Piazzale Roma
Duration: 3 hrs
Small Group: max 8
English
Adaptable for vegetarians
Vegan, gluten / dairy free options not available
Free Cancellation up to 72 hrs before the tour starts
Reviews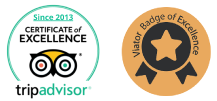 "Great Concept!" Shae (AUS)
Drinks were amazing and food was delicious! Federico is very engaging and charismatic and makes you feel like you're out drinking and eating with a friend.
"Amazing!" Janine (USA)
Our guide Anna was outstanding!!! The wine AND the food was amazing!!! The time went by so fast!
"Great tour!" Marloes (NED)
The tour with Federico was a blast! Really enjoyed the food and wines which were really good. But most of all enjoyed the company!
"Thank you Annachiara" Tracey (UK)
We were a small group which was ideal for squeezing into some of the small wine bars. My husband was surprised to find out he liked natural wine after all!
"Real Venice" Judith (USA)
We visited several bacari, had several tapas, wines and the "real" Venetian Spritz. It was like going out with a very knowledgeable friend. Thank you Simona!
Tour description
Getting tipsy is a logic and pleasant consequence of joining a wine tasting tour in Venice. The interesting point is that getting tipsy in Venice is a real local experience! There is no other region in Italy that offers such a wide choice of wine and drinks like Veneto does. Welcome to the Streaty Venice wine tour.
What you'll do 
We will walk you along the most popular drinking trail followed by Veneto people during the weekend.
On the wine tasting tour of Venice we will offer you a well balanced selection of local wines paired with some yummy bites. The mandatory kick off is a glass of fine prosecco, a real and rare certified Prosecco. Red or White? let us manage the choice at the second stop, we will select for you the right wine to pair with the right cicchetti (tapas) of the day. And for the lovers of natural wines, there it comes our third stop! You will comfortably sit in a wine bar that only deals with natural wines and top quality regional cured meats and cheese. This is also our favorite bar, where Streaty Venice staff meet and cheer. You gotta hold on till the end, when your palate will be delighted with a final sweet wave of Venetian Malvasia. Drinks, bites, talks…just an average Venetian day!
The Venice wine tour will take you around the alleys of Dorsoduro and San Polo, the areas where Venetians love to meet up after office time and raise their glass away from the tourist crowd. The meeting point is in Piazzale Roma, under the bridge of Ponte della Costituzione, few meters beside the train station.
Besides stories and curiosities about Venetian cuisine, your guides will also share interesting facts to connect you with the most authentic Venetian culture. Thanks to our small-group formula you will be free to interact with your guide anytime.It will feel like a night out with friends.
What you'll drink and eat
On our Venice wine tour you will try 5 different drinks: 1 prosecco, 1 dry red or white, 2 natural wines and a final dessert wine. At each stop you will also be served traditional Venetian tapas with fish and vegs, but also bread, cured meats and cheese. Tour ends with a sweet treat. The amount of food served on this tour substitutes a light meal.
Why join this tour

EXPLORE the student area of Venice away from the tourist crowd

TASTE the real Venetian spritz and a rare type of Prosecco

LEARN about everyday life in Venice through the stories of your local guide

TRY some traditional Venetian fish bites and cheese

MAKE new friends and meet new travel mates!

GET the best tips to enjoy Venice and its surroundings
Book Now