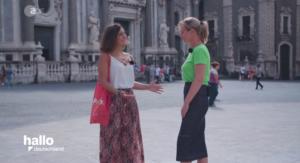 We did it again 🙂 this time we brought the street food of Catania inside Germans'houses. Streaty food guide Sonia Russo leads ZDF cameras around the benches of Pescheria fish market to make the presenter Martina Rosskopf taste local street food and some challening bites. Watch the video, get hungry, get your flight and get ready to join our street food tour of Catania for real!
ZDF TV in Catania with Streaty
Our tour guide Sonia Russo makes her first appearence in the program proudly walking with the fancy Streaty red bag and what she does first? Have you ever heard a German lady speaking Sicilian dialect? Sonia made it happen! LOL! At the beginning of the Catania food tour with ZDF, Sonia teaches Martina how to say "let's go!" in Sicilian, and there you go…AMUNI'! The Catania street food walking tour with ZDF TV starts diving into the noisy fish market La Pescheria. The welcoming and cheerful spirit of Catania citizens lights up the adventure as a fish monger shows Martina the sharp teeth of a "Sicilian piranha" LOL!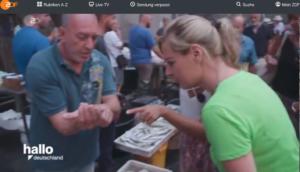 "Obviously this 'piranha' is fresh but how do I generally understand if fish is fresh or not?" Martina asks. Just like it happens on the real Streaty Catania tour, Sonia explains the presenter what lies beyond a simple shopping at the market, "You trust your vendor. You build up a kind of… relationship with him!". 
What's a ZDF street food tour in Catania without a real tasting? There is no Streaty tour without a challenge! Look at Martina's face when she is about to eat a raw clam! LOL! By the way, she does deserve a standing ovation because many travellers don't dare to eat raw fish…and they don't know what they are missing! 
Sicilian Street food on ZDF TV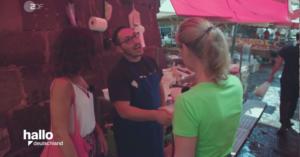 Francesco steps in the scene to offer Martina Rosskopf his amazing anchovies! Do not miss them when in Catania! Feel free to contact Streaty anytime to have tasty tips. Take a look at our blog article Where to eat in Catania like a local
More to come before the peak of taste is reached with the one and only arancino siciliano. ZDF TV in Catania takes a moment to shoot and discuss the most famous Catania street food specialty as our food guide Sonia teaches ZDF presenter Martina how to do the gesture for "good!".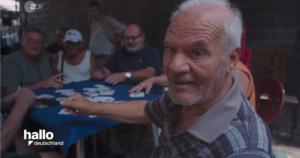 Just like all Streaty tours, ZDF street food tour Catania reserves a special paragraph to get into the daily life of people. The interview to the card players is memorable…watch it! 
This isn't the first time Streaty tours join a TV show. In the past we appeared in Rick Stein's Long Weekends in Palermo (BBC2), watch preview of Paul Hollywood's City Bakes in Palermo (Food Network), the food market series of ARTE TV (Germany and France), Italian RAI TV and many more! We also appeared in some specialized magazine like Jamie Oliver's, The Guardian, Rick Steves' blog. We do our best to promote the tasty streets of Italy. This is not work for us…It's a mission! 
Stay Hungry, Stay Streaty