We Streaties love travelling and love eating. As locals, we are aware of the importance of the right tip given by a local at the right time to the right traveller. "Where to eat" in a city is normally the biggest obsession for us.
My dear streaties, this is our short list of top restaurants to try in Catania, not just good restaurants but the top of  the pop restaurants beloved by Catanesi. If you are reading this blog post it's probably because you have already joined our Catania street food tour and now you wanna try some more elaborate dish of Sicilian cuisine…or you simply googled "best restaurants in Catania"! well, here it is what you are looking for my dear! Save this page 🙂
Streaty selection criterias
We selected the best restaurants to try in Catania based on three basic criterias: authenticity of the place, quality of food, value for money.
What's a Pop Restaurant ?
Our definition of Pop restaurant means an authentic place, popular among the locals. If you are searching the best restaurants in Catania, you are in the right place but here you won't find any gourmet nor exclusive restaurants, you will find real places, hung out by real sicilians, with real food on the menu. 
Trattoria La Norma
Via Umberto I, 256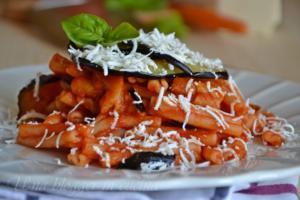 Simplicity is the keyword. Tradition is what you breath in the air. It's like the Sicilian Trattoria with all proper items we imagine when we say "a sicilian trattoria". Red and white squared table cloth, short legged glasses, old photos of Catania heavily wooden framed, iron cuttlery and old clocks. Needless to say, you find in the menu all you expect…what else my friends!
The pace is very relaxed and very democratic for all humans stepping inside: customers, waiters, and hosts.
If you wanna try a traditional Catanese dish like pasta alla norma, you can't but do it here. Good portions, quality sauces. All of this happens and tastes the way you want. Prices are as good as the food itself. Just do it. If you wanna make up your own food tour of Catania, sign this place down my friend T-r-a-t-t-o-r-i-a L-a N-o-r-m-a.
A Putia Do'Calabrisi
Via della Concordia, 185
Definetely our favorite place in Catania. This is a not to be missed place in Catania for all foodies and curious travellers. If you are searching for non touristy restaurants in Catania, this is what you are looking for. A Putia Do Calabrisi isn't really a restaurant, It's actually an Osteria. It's the triumph of Pop…let's say the Top of the Pops of Catania, and to be honest we don't know if this is a must-go restaurant or a must-go attraction. Everything is so purely catanese! The undefined queue outside sits on the scooters sipping some time-and-liver-killing country wine, somebody puffing a joint, others just tapping on their smartphones. "Life goes on" sang Tupac Shakur, and yo bro! Life goes on and will always be at Putia Do Calabrisi! Somebody will point some seats around big squared shared tables which means "try to get a seat downthere!". You only have to step on few people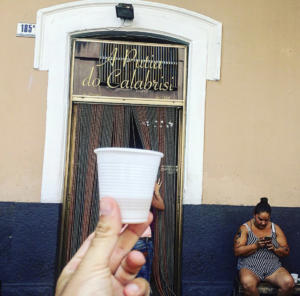 to reach your corner. Wait for Santina to come. Santina is the sweetest nicest funniest host you've ever met in your life. And she goes "this is what we have today…" listing all they have today. You are in love. You pick something randomly and finally eat some home-mama-made delicious dish. I had memorable fried triglie fish and pork in tomato sauce!  Something you should know: the area is infamous for being a bit dodgy. Nothing to worry about. Just like they say in Colombia "el riesgo es que te quieras quedar". The risk is that you don't wanna leave!
Osteria Antica Marina
Via Pardo 29
Antica Marina is probably the most recommended fish restaurant in Catania and it is worth to be recommended…and to be eaten! Situated in the heart of the Pescheria fish market of Catania, which is already quite poetic, Osteria Antica Marina is definetely one of the top fish restaurants in Catania. "Fish are jumping" sang Ella…"fish are baking" Catania replies. All fish is very fresh, the menu is very interesting, a perfect combination of tradition and innovation. Ok, I quit with this silly talk! innovation? tradition? What the hell is this! The food is just amazing. I still dream of the capesante with tuna chips and pistachio cream… #iwannamarrythechefnow!
I have to say that spaces are quite narrow but waiters are good at tetris game! They will find the right spot to sit your grumpy belly and lift you up after the coffee. Good selection of wines, not very wide but satisfying. It's very central, it's very good and the waiters are smiley!
Trattoria La Canonica
Via Raddusa 7
Very humble but very decorated. I will pay you a dinner if you only found an empty spot on the wall or on any other surface! You won't find it, give it up! I love this place. Very cozy, kind service, good variety of recipes, from fish to meat, from pastas to delicious appetizers.
This is the place you wanna go if you are with a group of friends…that kind of group where Tom wants to eat fish, Marlene hates eggplants, Jennie is vegetarian and Michael only eats fried food.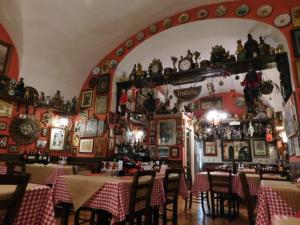 Situated few steps away from the Duomo. Is food memorable? Food is good, the place is memorable. It's your husband the husband of your dreams? Maybe not but it's the right husband for you and you love him. This is how we feel about  Trattoria La Canonica.
Now, let me suggest you what to order. La Canonica restaurant makes the best sarde a beccafico in the world, it's definetely the food not to be missed in Catania, and if you miss it my dear foodie, I will search you, I will find you and I will eat you. Right price for right food.
La Trattoria del Cavaliere
Via Paternò 11
This place has got one door and hundreds of tables set in god-knows-how-many floors connected to god-knows-how-many rooms and buildings! La Trattoria del Cavaliere is an institution in Catania. It's very authentic. Catanesi love it as much as tourists do. But please just cut that sh** with  "touristy Vs non touristy". You are a tourist so wherever you go it becomes a touristy place. You are the one that other tourists don't wanna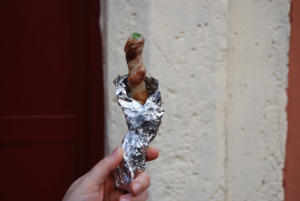 see and you dont want to see them either. Well, at Trattoria del Cavaliere nobody sees anybody. Just focus on the rich selection of appetizers, pick something from the menu, take a sit, sip whatever wine they give you and enjoy it. Both meat and fish are very good. You can try the cozze alla catanese (mussels with oregano) but also delicious cipollata (bacon rolled around spring onion). The place might result a bit claustrophobic for somebody, so consider this. The waiters go fast, so don't expect to be pampered. Avoid saturdays, too busy and waiters don't have many reasons to smile. Prices are extremely fair.