Planning a trip to Naples? craving to devour the best pizza of your life? and trust us…you will eat the best pizza of your life! But please, stop wasting time, stop being a google tourist, stop queueing up under the sun! We care of you 🙂 Now sit, read and save this page!
What's the purpose of this article
The purpose of this article is to convince travelers that there is nothing called "the best pizza of Naples", there are instead best pizzaS! So, no need to stand in the line for hours. Do like locals do, and locals simply go to less googled pizzerias.  
This short list of best pizzas in Naples was drawn by our guides from Naples. By the way, did you know that pizza was actually born as a street food? did you know that the concept of "pizzeria" as a pizza restaurant was born in the US and not in Italy? Learn this and much more on our Naples Street Food tour.
What do locals order in pizzeria?
Just like all of us, crazy Italians, also Neapolitans are very strict when it comes to food tradition. The pizza is one, just one, pizza Margherita! The simplicity of tradition always wins. As locals say "if you wanna judge a pizzaiolo (pizza chef), you must try his pizza Magherita". The pizza Margherita is simply topped with the colors of the Italian flag: red tomato, white mozzarella and green basil. The official disciplinary code of pizza also lists the pizza Marinara, with tomato, garlic and oregano.
However, if you wanna add some extra taste without insulting the local tradition, you can pick one of the following:
Pizza Salsiccia e friarielli
Pizza scarola
Pizza is huge or…just right! 
The size of pizza is just right for Italians, it's huge for most of foreigners. According to the official regulations of Neapolitan pizza chef union, the diameter should measure between 22 and 35 cm. However, we would say that the average size is about 27 cm / 10 inches.
Appetizers before pizza
If you wanna make it the real local way, you have to sample some fried appetizers before pizza. We Italians can handle it, as for you…just know your limits!
– Angioletti, finger-shaped pizza dough served with diced tomatoes and basil. You can also eat Angioletti as a dessert topped with nutella and pistachio cream.
– Crocchè di patate, a delicious potato croquette with phone-wired mozzarella!
– Ciurilli with ricotta, fried zucchini blossoms stuffed with fresh ricotta! Watch your first bite…it will literally detonate! 
Pizzeria Starita
Address: Via Materdei, 27/28
This is the not-to-be-missed pizzeria in Naples. Starita pizzeria is hidden in an alley at only 15 min walk from the very central piazza Dante. It's the walking distance between you and the best pizza of your life. A tiny entrance hides a labyrinthine pizzeria with tens of tables tetrisized here and there. The list of pizza is wider than usual, so take your time. Any choice is the right one. We especially liked the pizza Diavola with spicy pork salami. 

Pizzeria Lombardi 1892 
Address: Via Foria 12/14
Step outside the city center and burn your calories to reach this world class pizzeria. Lombardi means quality in Naples…since 1892! and you will realize what we mean. You will hardly find tourists in this place and there is a reason why, it's off the tourist queue zones! Just go with classics at Pizzeria Lombardi 1892, here you will get the best pizza Margherita in Naples.
Pizzeria Da Attilio
Address: Via Pignasecca, 17
Ask your streaty guide to point at this pizzeria as you stroll down the food market of La Pignasecca. This cozy family-run pizzeria is renowned for the star shaped pizza! Is this innovation? well these guys are around since 1938! Attilio does deserve to be in the list of best pizzerias in Naples. 
Pizzeria Lombardi a Santa Chiara
Address: Via Benedetto Croce, 59
This tiny pizzeria is located in a very touristy area but it is more than worth it! Lombardi's pizza scarola will change your life. The pizza scarola is a flat folded pizza stuffed with scarola veg, black olives and smoked scamorza cheese. The funny thing is that many tourists wouldn't stop here coz it does not come up on google that easy. Beside serving amazing food, this pizzeria offers a top class people-watching position!

Pizzeria La Figlia del Presidente
Address: Via del Grande Archivio, 24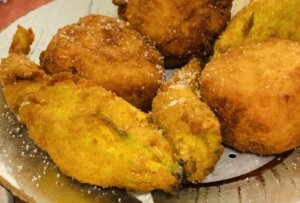 Real travelers walk around the corner. And if you do that, you will find the Figlia del Presidente! Let tourists queue up in the main street as you vanish into the backstreets heading to the most memorable pizza. If you find a queue outside, it won't last for long because the location is huge.  Beside its delicious and big pizzas, We also recommend you Another delicious appetizer locales love to bite before the pizza is the "crocchè di patate", a delicious potato croquette with phone-wired mozzarella!
Conclusions
It is not easy to be a spontaneous foodie travelers nowadays. Too many inputs from too many sources. The right solution still remains the same, just ask locals! This is why on Streaty tours you will always be guided by a local guide, because they simply know best.