Streaty lands in Italy
The Sicilian food tour brand Streaty lands in Italy! Ladies and gentlemen we are glad to announce the launch of Streaty Venice, Street food tours of Venice. The Streaty Venice experience has been designed in compliance with the main Streaty mission: to give travelers the chance to have a real local experience without filters of any kind. We achieve this by opening the secret doors of a local culture through its unique flavours. We believe that food can tell travelers the history of a place as much as a church can. Come eat Venice with us!
What's Streaty Venice?
Streaty Venice is a 3hr relaxing street food walking tour around the canals and alleys of Dorsoduro district, an area normally untouched by the tourist crowd. During the itinerary participants will have the chance to sample traditional local snacks and sip a selection of wines and drinks produced in the region. All streaties joining the tour get a personal food passport!
Where does the magic happen? 
Streaty Venice itinerary stay away from the touristy area in order to let travelers enjoy the real soul of Venice without stress. Streaty guides will take you into the traditional bacari (inns) where Venetians go after office time or during special celebrations to share few glasses of wine and eat delicious cicchetti (tapas). There are thousands of good bacaris in Venice but which one is really worth to step in? follow your Streaty guide!
Streaty Venice Guides
All Streaty guides are selected based on specific criterias. First of all they must be local, but also young, laid-back, passionate about food and travels, totally in love with their homeland, and last but no least, they must be professionally licensed in compliance with the Italian Tourist Law. Streaty Venice guides Federico an Annachiara will offer foodies the top daily selection of Venetian cicchetti and other traditional dishes. Needless to say, every sample goes with a drink! Everybody knows spritz…but do you actually know how is the original Venetian spritz made? you will find it out on Streaty Venice tour. Not only food! During the tour the Streaty guides discuss several issues, such as history, arts, but also habits and other cultural insight you would hardly find on your guidebook! Venice culture and history is quite rich and complexed, we make it easy, entertaining and tasty!
Streaty Venice Food Passport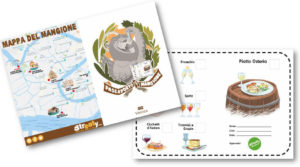 Just like Streaty Palermo and Streaty Catania, all participants joining Streaty Venice tour will get their personal Food Passport! On your personal Venice Food Passport you will find several delicious food and wine samples drawn by our official cartoonist: spritz, cicchetti, tiramisù, sardines and much more. After each sample you will get your personal food passport stamped by our guide. Some food can be a little bit challenging, well, the streaty rule is simple: give at least one bite if you want to get the stamp! As you know, Italian cuisine is different in every region, this is why we designed a unique passport for each food experience. Real streaties do their best to get and complete all food passports. It's not just about food…it's a matter of glory! 😉
Stay hungry, Stay Streaty