What is a Sicilian cannolo
Let's make it clear, the Cannolo is a typical Sicilian dessert. Do not dare to tell a Sicilian that you have already eaten a cannolo in Rome or in New York. There is no cannolo over the Strait of Messina. The cannolo consists of three parts: the so-called scorza ("crust"or "peel") which is shaped like a bow tie, the sheep ricotta cream as filling and the topping which is nowadays very creative, but traditionally you should only be a slice of candied orange or a cherry. That is it. We'll make you taste the best Cannolo in town: all you have to do is booking our street food tours in Palermo!
Do-not's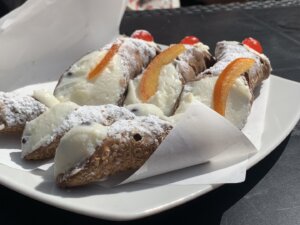 Do not call it cannolo if it's shaped like a perfect cylinder. The shape of the cannolo must be like a bow tie. Do not call it cannolo if it's filled with custard cream. Custard cream is a persona non grata in a cannolo. There is only one cream allowed to access the cannolo's crust, the sheep ricotta cream. Do not say "May I have a cannoli, please?" when you just wanna have one. Cannoli is the plural form of the word Cannolo. Speak like a real Sicilian! 🙂
What does cannolo mean 
In Sicilian language the word cannolu (with u) means "short tube". The cannolu is actually the name of a cylinder-shaped mould used by the mamas to wrap the dough. Originally Sicilian mamas were using sugar cane sections. Nowadays pro-mamas can only use soulless sterilized metal moulds. Did you know this? C'mon, there are so many things you cannot know unless you have a Sicilian friend or a Streaty guide 🙂
What are the ingredients of Sicilian cannoli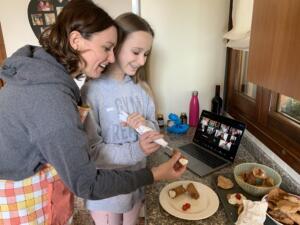 The cannolo dough is made of flour, sugar, egg, lard, vinager, marsal wine. The dough is worked by hands, stretched and finally rolled around the mould. The fragrant paste is gently killed in lard (pig fat), deep fried in it with no mercy. Not all vegetarian travelers know about the lard passage until they meet a Streaty guide, but the funny part of the story is that they don't get surprised nor disgusted at all when knowing this, they still love and eat cannoli. What about the cream? Take fresh sheep ricotta and mix it with sugar. Done.
The filling of Sicilian cannoli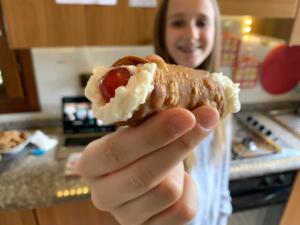 The cannolo must be filled at the moment. A cannolo filled more than 30 min prior your first bite will probably taste like a humid soggy biscuit dipped in a melted sour cream. When you entered a cafè, ask to fill up a new cannolo for you. Let me say that most of the times this won't work for you as a tourist. You will probably get as reply "why? this is a real sicilian cannolo, the best one! We make it fresh every morning!". Be aware! the more a Sicilian stresses the freshness of his products the less fresh that stuff is. This is why we run food tours, coz we do not want travelers to fall in tourist traps. We want you to eat like what and where we do 🙂 
What is the size of a Sicilian cannolo
All Sicilians agree that the minimum size of proper Sicilian cannoli is 14 cm / 5,5 inch. A small cannolo is called by Sicilians cannolicchio. The cannolicchio is normally 9 cm / 3,5 inch long. This is what you may find outside Sicily sold as "true sicilian cannoli". Stay away from it. The point is that the proportion of crust and cream in a small cannolo never gets the same tasty results of a real Sicilian one. When you bite a proper size cannolo, your lips must sink into the fresh cream and make yourself a fancy hipster ricotta moustache, and why not…a white nose too! . While biting you feel the toasting of the crust. Let's shorten this up: a cannolicchio is not a real cannolo.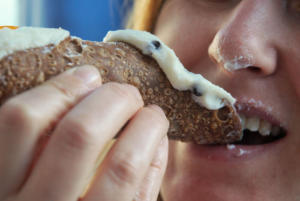 Where to consume Sicilian cannoli
This is probably the hardest part of your cannolo mission in Sicily. There is nothing called a "Cannoli shop", if you find it, it's a touristy pastry shops. So, should you buy it in a pastry shop? Maybe, but do not give this for granted, most of pastry shops only serve the small ones. Only your local friend or your Streaty guide can take you to the best cannoli spots, but we'll give you two good tips! The small town of Piana degli Albanesi ( in the Province of Palermo) is a pilgrimage destination for cannoli lovers. You may also want to check San Lorenzo mercato in Palermo and their Cannoli Festival!
How to recognize a good quality cannolo
Have you ever tried fresh ricotta cheese? If you did it then it's easier for you to recognize a good cannolo. The cannolo's cream must taste, look and feel as close as possible to the ricotta cheese (many sicilians want to feel a cheese aftertaste in their cannolo!). The ricotta cream must be simply imperfect, foamy. A perfect shiny cream is just a beautiful milky cream made up for tourists and their selfies. If you have fresh good ricotta cream and your cannolo is filled in front of your eyes or it's been filled few minutes earlier, the you made it, your palate is now closer to heaven.
The cannoli season: when to eat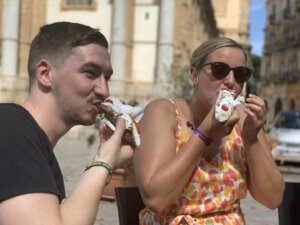 Not everybody knows that the cannolo is actually a seasonal dessert. Sicilians sell cannoli all year around but do Sicilians eat them all year around? The answer is NO. This delicious Sicilian pastry must be eaten strictly between autumn and spring. Sheep find fresh green grass between october and may. This is the time when they produce the best milk. In summertime they get fed with other forage which affects the quality and the taste of their milk and their ricotta. Normally fresh ricotta can be preserved for a maximum of 12 days. In summertime (from June to September) there is no production of ricotta…so,what's that stuff you find inside the crust? Think about it and save your selfie this time!
If you visit Sicily in summertime, eat like a local! In the summer heat Sicilians prefer other sweet treats like gelato or granita. East of Sicily is renowned for the making of granita, fruit and nut flavoured slushies. Catania, Taormina and Messina are the Sicilian granita Capitals. Palermo is renowned for two tasty summer treats instead: the broscia col gelato (ice cream roll) and the gelo di mellone. The gelo di mellone is watermellon creamy pudding used to stuff cakes or simply served in cups topped with chocolate chips, jasmine flowers and cinnamon! Yummy!
I know what you are thinking now. Mr Streaty…this is bulls***! I've been to Sicily in August and I had amazing cannoli! Well…I'm sure you did but wait a minute! try to remember how many Sicilians around you were having cannoli too 🙂 Locals know better, remember this! This is why Streaty only hires 100% Sicilian guides.
The origin of cannoli: sex stories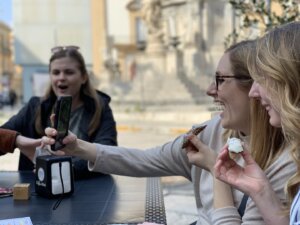 Now that the article is over and midnight is passed, so I can also tell you about the sex story that lies behind the cannolo. The very first historical evidence of the existence of cannoli is dated back few years ago, to be more precise 70 b.C. Cicero mentioned it as a "delicious cylindric pastry with a milk base". The cannoli the way we know it, it was probably created in Normans' times (XI-XII) in some monastery located somewhere near the town of Caltanissetta (central Sicily). Here it come the hot part! It seems that the Cannolo recipe was inspired by a joke performed by the Sicilian nuns at Carnival. These innocent guests of monasteries used to fill up the tubes of fountains with ricotta, so when the next unawared nun would open the fountain to get some water, she would get the white cream instead!
Eat like a local, Streaty style 
Our street food tours are designed to offer travelers an authentic experience, we do not sell anything anything, but we work to make them get the best of Sicily 🙂 We see streaty travelers exactly as friends, no tourist traps! Take a look at our food tour where you can enjoy a proper cannolo: The Ultimate Sicilian Food Tour in Palermo. You wanna know more about the food experience with Streaty? read the fabulous blog piece written by The Traveling Stomach.
Stay Hungry Stay Streaty!