What's included?
Street Food samples
2 drinks
Ice cream
Licensed tour guide service
24 hr cancellation policy
Key information
Wednesday to Saturday at 6 pm
Meet us in piazza San Lorenzo
Duration: 3 hrs
Private experience
English or Italian
Adaptable for vegetarians
Vegan, gluten / dairy free options not available
Free Cancellation up to 72 hrs before the tour starts
Reviews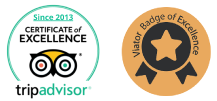 "inside Florence" Marc (NED)
You go where the locals go, you hear their stories and you eat with them their food. Be ready to eat more than you're used to!
"highly recommended!" Varney (UK)
Highly recommended to anyone wanting to understand anything about florentine foods and to get a different feel for the city. Gaia is a superb host!
Tour description
The night street food tour of Florence has been carefully planned to allow passionate foodies to maximize their stay in Florence and take a bite on the unmissable street food specialties! We offer a 3 hour Florence night street food  tour run by a local guide to hunt, catch and enjoy the best selection of night street food. Along our Florence street food tour, foodies will have the chance to step in real Floretine spots, taste real traditional foods and learn about the Tuscanian cuisine.  The magic of Streaty Florence night food tour happens in the centro storico. The Mercato San Lorenzo is the first destination, follow your Streaty guides as she leads you among the benches to reach the first food stop, what is it? whatever the market offers that day! It's just a warm up to set your taste buds in the right mood! Just like all Florentines do after office time, your Streaty guide will walk you in a cozy enoteca to taste some cold cuts and bruschettas. Sure, it's not just eating and toasting! The night street food walking tour of Florence is a walk with a friend, your Streaty Florence guide will also give basic historical information, share personal life stories and tips in order to give travellers an unfiltered perspective of Florentine life. The Florence night food tour also features some must-eat food normally unknown among tourists, like the fried coccolo with stracchino cheese and some challenging Florence street food specialty like the legendary panino al lampredotto (sandwich with veal stomach)! In fact, we want to offer our foodies real traditional specialties, we mean the Florentine food we grew up with. We don't really care if some recipe might be considered challenging or weird, this is what we eat, like it or not 🙂  Just relax, and trust us! Just like all Streaty tours, the night street food tour of Florence ends with a sweet and refreshing treat…gelato! not any flavours of course but the one and only buontalenti!  Take your time to ask Streaty guides all the tips you need before giving a last hug…and a goodbye!
Book Now