Surfing Sicily: tips & spots
INTRODUCTION
Most of Sicilians actually believe that surfing is only possible in California…you know…Baywatch sh**! but there is a bunch of Sicilian sea lovers who do surf, and they are pretty serious about it. Well, It's given for granted that you will not find the long clean Cali-Bali waves, forget that! but if you come to Sicily in the right period and you carefully plan your excursions to the right spots, then you will have a lot of fun! And guess what!? you will not find that bastard shark that used to attack poor Mitch's son Hobie everytime he would paddle out! In this article I will simply list for you the main spots, easily reachable from the cities that you will probably touch on your Sicilian travel: join our street food tours in Catania during your Sicilian trip!
So… stay Hungry, Stay Streaty… and keep surfing! 😉
SURF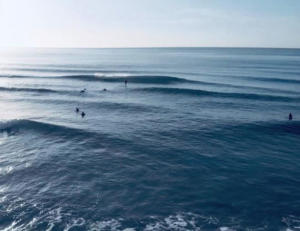 When? The best period to surf in Sicily is: March to May and September to December. From January to early March the sea gets often too choppy and it's not always that enjoyable.
From June to August gets easier to kitesurf or windsurf than surfing because the sea is mostly flat and the beaches get crowded, dangerous for "civilians"! You can easily surf without wetsuit from late May to early November.
Where? here is a list of the most popular Sicilian surf spots and Surf schools for classes or surfboard rental:
Isola delle Femmine (Palermo)
This is the place where I started surfing and where I still go to take a break from the crazy traffic of Palermo. Isola Surf is the one and only surf school in Palermo area, Danilo the big boss and his mate Antonino give classes for all levels and rent surfboards. Isolasurf also organizes Stand Up Paddle excursions and yoga classes on Sup boards! The sunset view from the line-up of Isola delle Femmine is worth all the trip to Sicily! Do not miss it!
The surf school is located at Miramare restaurant. Whenever you had enough of surfing, just take a sit at Miramare, order pasta with clams, a cold white wine and enjoy it!
If you don't want to stress out, just contact us and we will arrange the surf excursion for you!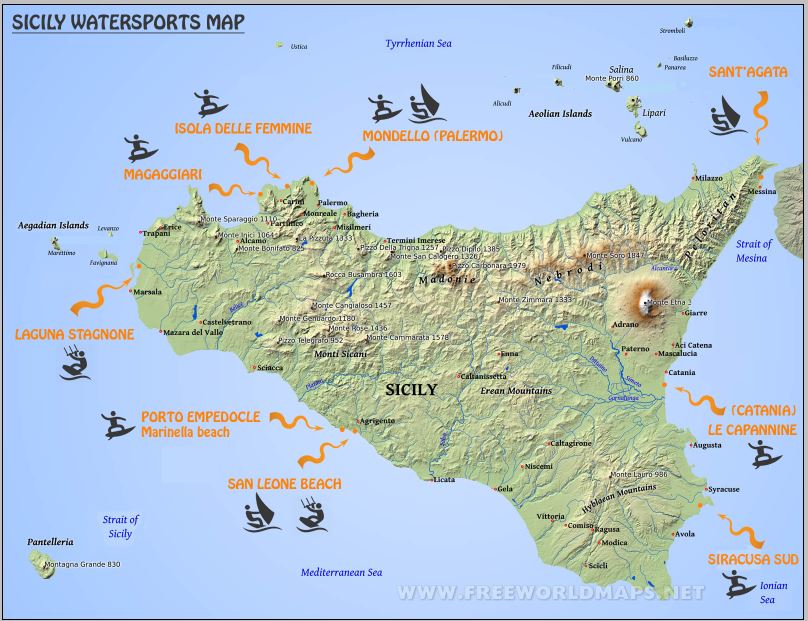 WINDSURFING
When? All year round.
Where? Here is a short list…
Mondello beach (Palermo)
Albaria windsurinfg club represents history of local watersports. Mondello beach is considered one of the best spots for windsurfing in the world…go find out yourself why! Contact Albaria Windsurfing club (see link above).
If you are a big foodie do not miss pasta with sea-urchin at Trattoria da Enzo, right in the main square. If you are lucky enough Mondello beach break will also serve you perfect smooth waves to surf!
KITESURFING
When? All year round. Where? The Laguna dello Stagnone (Marsala) is the best spot you can find for kitesurfing. Renowned as the House of Wind, the province of Trapani and especially the cape of Marsala is like heaven for kitesurfers! In 2007 Trapani hosted the America's Cup preliminary races blessing the sailboat teams with the best wind conditions for speed. So, get on your car and drive straight to the Laguna dello Stagnone. For classes and gear rental We recommend youget in touch with Stagnone KTS Kite Tour Stagnone!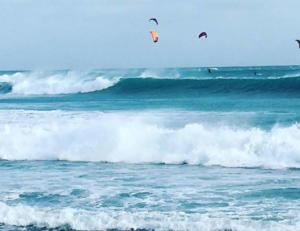 BOOKING
You can easily contact the schools directly or if you are lazy, as I am, simply write Streaty and ask us to arrange a surf excursion: info@www.streaty.com
FORECASTS
magicseaweed or meteo/surf.it or webcam siciliacam.it
You surfed?now eat! read What to eat in Sicily
Stay hungry, Stay Streaty and keep Surfing!
cheers!
Marco