Today, April 25th, St. Marco's day, time to celebrate the Patron of Venice. Why today? it's the alleged date of his death, April 25th, 68 d.C. The day when Marco's soul raised to heaven.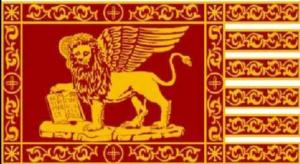 So…what's the story behind the lion?
The winged lion is the symbol of the evangelist Marco, Patron saint of Venice. The lion sits between the land and the seas to represent the extended supremacy of the glorious Republic of Venice also renowned as La Serenissima. All foodies should say thanks to Venice for importing the most scented herbs from the east of mediterranean seas and enrich europeans'cuisine. All the tasty recipes you try on Streaty Venice street food tour have been originated from centuries of trade exchange.
What about the book?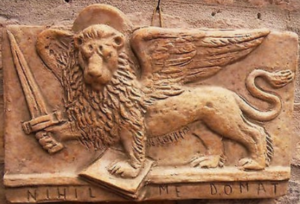 The Lion of St.Marco holds an open book reading "pax tibi Marce evangelista meus" (peace to you Marco, my evangelist!). This is what you see on the wall of Rialto fish market. Join our Venice food and market tour and find out more! The same holy wild beast stands proudly in the flag of Veneto region.
Clear, isn't it? but…when walking around Venice you may see marble frames with St. Marco's Lion showing a closed book and grabbing a sword. So What's the difference in meaning? It means that at that time Venice was in war. Open book=peace time. Closed book=war time. The Lion of San Marco is what we chose as symbol of Streaty Venice street food tours, this is why you see it printed on the cover of your Food Passport. This does not apply to Streaty tours. It's always time to eat for us…peas and love!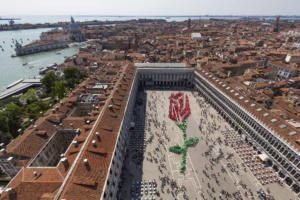 Every April 25th Venetians celebrate the Republic of San Marco with parades in traditional costumes. It's the day of the days, when people from the lagoon proudly stand in front of their flag and time travel cuddled by the echoes of a roar. Non only this! not everybody knows that April 25th sounds like romance in Venice. April 25th is also the Festa del Bocolo (tr.curl), gentlemen donate a rose to their beloved muse 🙂  How Italian is this?!?!
Viva San Marco! Viva Venezia!Viva L'Italia!