Streaty on "Viini"
Streaty again! This time We brought the food of Palermo inside the tasty pages of trendy Finnish food magazine VIINI. We told you we mean business…especially when it comes to food!
Last year We had the pleasure to host the Finnish journalist Mika Ninnirata and VIINI photographer on our Streaty street food Palermo tour. She was in town to write an article about Sicily with a focus on Palermo and its food….so, how could they miss a Streaty experience! The article promotes Sicily and gives useful tips to enjoy a trip travel around the Island. Here is the top 5 things not to miss in Sicily according to VIINI:
1)Local atmosphere and cocktails
– best atmosphere in local corner bars
– sweet wine is taken as afternoon aperitif
2)Taste of sea food
– early morning at the harbour when fisher men come back with their catch
– fish is fresh and affordable
– octopus potato salad or pasta alle vongole or pasta con le sarde
3)Arabic traditions
– history of Sicily
– Arabic culture, traditions and cuisine
– Norman King Roger II
4) Fresh blood orange juice
– freshly squeezed (blood) orange juice
5) Street Food
– street markets and street food: schiticchio, panella, arancina, pani ca'meusa featured on Streaty tours.
The article signed by Mika Ninnirata finally ends recommending some local business. As for food tours, needless to say…it's us! 🙂 www.streaty.com
This is just the last of our success in promoting Sicily and its food around the World. Streaty also appeared on Rick Steves'blog, Rick Stein Palermo episode broadcasted by BBC, Paul Hollywood's City bakes (Food Network), National Geographic, Ryan Air Blog, the German Channel Arte and many more!
Read full article…in Finnish! https://viinilehti.fi/2018/05/palermo/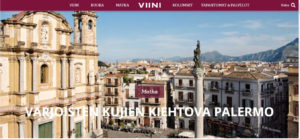 Special thanks to our Streaty friend Juha Kivi for translating the article from Finnish to English 😉