Florence is without any doubt the capital of good food in Italy. The average quality of restaurants is by far the best compared to other big cities in the country. Does this fact lower the risk of falling into a tourist trap? Mmm…not really! As we keep repeating, the best advisor is a local friend. So, if you are searching for the best restaurants in Florence, this is the article you have been looking for, since these restaurant list has been drawn directly from our staff in Florence. The principle of our suggestions is easy: we simply recommend places where we personally would go to eat at. 
By the way…anytime you get tired of staying seated and eating with fork and knife, just join our Food tour of Florence. We will gently push you out of your comfort zone to taste the real Tuscan street food!
Our selective criterias
We recommend places based on three main criteria: quality of food, vibes of the location, kindness of the hosts. In our humble opinion, the best food served by a grumpy waiter is not worth the dinner. So we come to the conclusion that a trattoria is worth being recommended when their service is well balanced in quality, kindness and good vibes.
Best Trattorias in Florence
TRATTORIA DA TITO DAL 1913 🥩
Via S. Gallo, 112/r (train station area)
Well…you miss something if you don't go to Tito for a meal. We can confidently state that this is the best authentic Trattoria in Florence. The laidback mood of the house is contagious. Don't expect to be treated like a guest. They will treat you like an old friend with no filters or formalities of any kind…like it or not! 🙂 This is not the place you
would for a romantic date, it's the place you would go to have fun! The Fiorentina steak is by far one of the best you can try in Florence. The crostino nero with chicken liver is supreme, just like any other dish you will order. Finish your dinner with cantucci e vin santo and remain sit munching cantucci and sipping wine till you get drunk. Just book and go!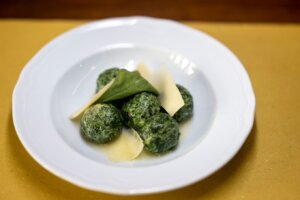 TRATTORIA DA GINONE 1949 🥩
Address: Via dei Serragli, 35/R
Lovely small place situated on the other side of Arno river. Very kind host and super delicious traditional winter recipes. Go traditional and try gnudi ricotta e spinaci. It's a Florentine specialty too often ignored by tourists. Do not miss it! 
COQUINARIUS BISTROT 🍷
Address: Via dell'Oche, 11R (near the Duomo)
Lovely place. Don't expect to enter a traditional trattoria with red and white table cloths. The modern furniture does match with the interesting innovation brought to the traditional recipes. Everything you order is simply "soooooo good!". The young hosts are very kind and professional. It's a real pleasure to have dinner at Coquinarius Bistrot. The wine list is excellent! Every single euro you spend at Coquinarius is worth it.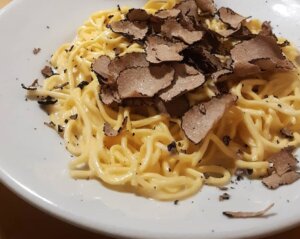 RISTORANTE I'BRINDELLONE 🍄
Address: Piazza Piattellina, 10 (Santo Spirito area)
A tiny cozy trattoria with a fun host and an intense Florentine pride spirit! The "I'Brindellone" is regularly mentioned by locals as one of the best restaurants in Florence where to enjoy Tuscan cuisine. Tradition also comes in the fancy old style "fiascos" of Chianti. The meat is definitely the specialy of this place. However, we strongly recommend you to try the tagliatelle ai funghi!
RISTORANTE BRANDOLINO 🍝
Address: Piazza di Madonna degli Aldobrandini, 3R (train station area)
Compared to the rest of the restaurants recommended on this article, the Brandolino can be considered a higher standard place. The beauty of each plate does reflects the intense flavours they carry inside. Ideal place for a romantic dinner. If you love truffles, do not miss Brandolino's pasta with fresh black truffle! Ask your host to choose the right Tuscan wine for your dinner.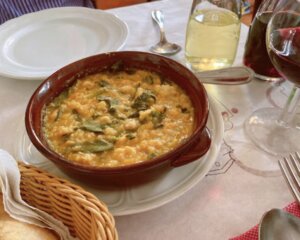 TRATTORIA LA CASALINGA 🍲
Address: Via dei Michelozzi, 9/R (Santo Spirito area)
If you wanna go where locals go, this is the place. Breath the Italian spirit at La Casalinga, with its pros and cons! The Trattoria La Casalinga celebrates the Italian cucina povera, old style homemade cuisine. Slow service, simple recipes, simplse dishes, simple wine…and super fair prices! This would be an ideal location to try the local ribollita or pappa al pomodoro, the renowned Florentine vegetarian soups. The Trattoria La Casalinga celebrates the Italian cucina povera, old style homemade cuisine.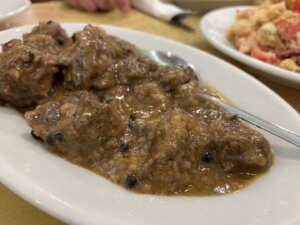 RISTORANTE PENSAVO PEGGIO 🍅
Address: Via del Moro, 51 r (Train Station)
Located near Santa Maria Novella train station, the Pensavo peggio is an everyday local trattoria. The list of dishes is essential, strictly belonging to the local tradition. Start with some good bruschettas and then enjoy the tagliatelle al ragù di cinghiale. This is not a gourmet restaurant, it's a nice place for an Italian lunch in a cozy and relaxing environment. We simply love it.
MARINA DI SANTO SPIRITO 🐟
Address: Via Maffia, 1/C (Santo Spirito area)
As they state in their website, this is an eclectic family-run restaurant located in the area of Santo Spirito. The food history of this family starts with Mamma Rosa in the early 80's and reaches our days with the same top quality service! Have a refreshing white wine and some marinated seafood to forget you are now sitting in the center of Tuscany. You'll pay what you eat…quality!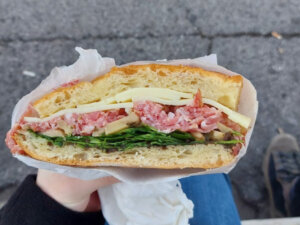 LA FETTUNTA 🥖
Address: Via dei Neri, 72r (Santa Croce area)
This is your place if you want to grab a quick but memorable schiacciata toscana (crunchy focaccia). You can stand in a line for an hour or so to grab a delicious schiacciata at the famous Antico Vinaio, like all tourists do. Or you can skip the queue, sit comfortably and have an equally delicious schiacciata at La Fettunta. You will love the food, you will love the place, you will love the hosts! They are always in a contagious good mood. Their cured meats, pates and cheese are PHENOMENAL!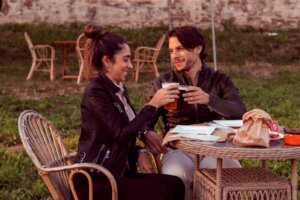 LA BIRR'AIA 🍺
Address: Via di Santa Maria a Marignolle
If you are a beer lover, this is your place! At La Birr'aia you have the chance to sip a phenomenal home brewed Italian Proud Ale paired with a super tasty burger of Tuscan chianina (beef). The brewery has a beautiful garden. To reach this beer paradise you may want to take a taxi…and maybe walk back to the city to keep the hangover under control 😉
Trust us and enjoy these restaurants, and please, let us know if something goes wrong…since we care of you 🙂 Our list of restaurants is constantly updated based on our triple checks and your opinions. Buon appetito!
Photo credits
Some photos have been taken from restaurants' websites and gmb pages