Here it is! Our short list of best restaurants in Palermo, family-run trattorias, romantic gourmet locations and panoramic pizzerias!
Let's make it clear. The food you find in restaurants is not the same you devour on our Palermo street food tours. Street food is a thing, Sicilian cuisine is another thing. In few words, street food in Palermo is what you eat here and there standing: quick, easy, fried, tasty. Sicilian cuisine is what the Palermitan mamas have been making at home for centuries.
Streaty Selection Criterias
On this article, you will find the short list of places that deserve to be recommended to a friend or a traveller, which for us make no difference.
The selection is based on a very easy principle: we believe in dining as an experience that involves the pleasure of palate, the pleasure of sharing a company, the pleasure of spending time in a restaurant.
To select the best restaurants in Palermo we adopted these criteria:
– the quality of food
– the comfort of the location
– the kindness and professionalism of the staff.
Price range
S (20-30 Euro) – SS (30 to 40 euro) – SSS (40 to 60 euro)
Notes
Talking about money: we do not get any commission from restaurant managers to promote their business! In fact, we do not promote, we simply share tips. The restaurants are divided in categories: Sicilian cuisine, fish restaurants, meat lovers, pizzerias. The restaurants are not listed in order of preference.
BEST RESTAURANTS IN PALERMO

BEST SICILIAN  CUISINE TRATTORIA IN PALERMO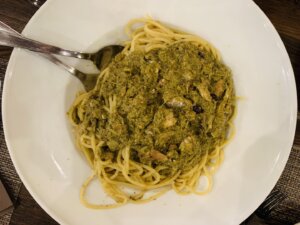 Nonna Dora – not to be missed
Piazza Colonna, 7/8, (5 min walk from Teatro Massimo / S)
Tel. +39 0916111355 It's very popular so you better book!
Just what you are looking for. Only traditional recipes in the list. Very good prices, very good quality and HUGE portions of pasta! If you are not a big pasta eater, we highly recommend you share a pasta dish with your travel mate. They also have an excellent and essential wine list. Must go but must book in advance!
Trattoria del Massimo – requires a reservation
P.za Giuseppe Verdi, 25/26 (1 min walk from the opera house Teatro Massimo / SS)
Tel. 091326155
Without any doubt one of the best Trattorias in Palermo to try traditional Sicilian dishes. Their pasta with sardines is superb. The risotto with nero d'avola and crispy pork is another not-to-be-missed dish. Short but good wine list. Better to go for lunch than dinner, less people and more relaxed mood for a nice chat. 
Al Cancelletto – family run trattoria
Via Ottavio D'Aragona, 34 (10 min walk from Teatro Massimo / S)
Tel. +39 091 228473
IA small family-run restaurant with good prices, good food, good wines and a cozy and relaxing environment. The trattoria is literally hidden in a narrow alley of the city center. Many Palermitans never heard about the existence of this place…thanks God! Otherwise it would be much harder to find a table. Al Cancelletto is never busy but you never know, so book first. All the pastas are excellent- We highly recommend to try the Caciocavallo all'argentiera (pan cooked cheese). They make it the old school way. 
Da Bartolo  – great choice to try pasta with sardines
Via Pannieri, 7 (Vucciria district / S)
Tel. +39 091 329523
Mr Bartolo fed generations of Palermitans in his former trattoria Maestro del Brodo. He is back in a more elegant restaurant where still resides the passion of his traditional Palermitan recipes. If you are willing to try the classic Palermitan pasta with sardines this is definitely one of the best options in town. All dishes are very well made. Sometimes service goes a bit slow but it is still
Trattoria Da Pino – old style and cheap
Via dello Spezio, 6 (2 min walk from Teatro Politeama / S)
Tel. +39 3496337358 (you better book for saturday meals!) 
We think this is a must. This is the very last old-school Trattoria with the proper relaxed and slow paced atmosphere. Mr Pino only serves traditional tavern dishes, like the rare "pasta alla glassa" (with veal stew and potatoes) or the "carne alla pizzaiola" (veal steak topped with tomato and mozzarella). The walls are covered with Palermo FC photos, articles and jerseys. Against all the odds, the spilled red wine is very good too! In our opinion what they do best are the appetizers and second courses. Pasta with swordfish and eggplant rocks! The bill is gonna be ridiculously cheap.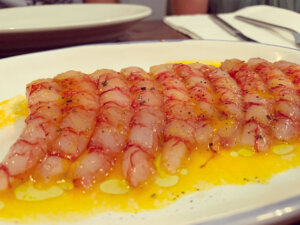 BEST FISH RESTAURANTS IN PALERMO
I Sapori del Mare
Via Re Federico, 8 (15-20 min walk from Teatro Massimo / SS)
Tel. 3487420956

Well…if you asked me what's the best fish restaurant in Palermo, I would probably say I sapori del mare. This is like DA-FISH-TRATTORIA, just the way you imagine it. The mama, the papa, the son and the boy. The food list is not very wide but it's all extremely fresh and good.  Before you make the order ask for the daily dish. Our favorite dish is without any doubt the pasta with gamberoni! At lunch there is almost no people, you will be sitting alone with the host, its family and some other faithful local customer. At dinner most of seats are taken but you won't have any long queue and most of nights you don't need to make a reservation…but to avoid surprises, just book your seats! There is only one thing to improve: the wine list is too short. If you go, tell the owner you've been recommended by Marco.
Osteria Mercede
Via Sammartino 1 (10 min walk from Teatro Massimo / SS)
Tel. 091 332243
Five years ago I would have called it the new delicious surprise of Palermo. Well, now it's the superstar! Everybody love Mercede, locals, travellers, tourists and food experts. Two rooms, two nice waiters, one cool chef and owner. I mean, these guys know their stuff!
The menu is written on a blackboard, how cool! Freshness is the keyword at Osteria Mercede. Try the sardines with caramelized onion every month.
The Osteria Mercede is located at few steps away from Teatro Massimo, however nowadays is quite impossible to find a spot unless you reserve it few days earlier.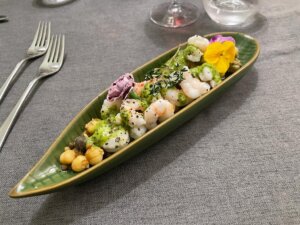 Quattro Mani (not only fish!)
Via Francesco Riso 3 – Kalsa District/ SS
Te. 0916165046
Quattro Mani restaurant is located in the heart of Kalsa district, one of the main four quarters of Palermo. You will breath a calm and fine mood at Quattro Mani. They know how to treat fish properly. if you happen to be in Sicily between august and October, must try the Capone fish! Their wine list is one of the best in town. 
Badalamenti Cucina e bottega 
Viale Galatea 55 (in Mondello, to be reached by car / SSS)
Tel. 091450213
We are off the budget for most of Palermitans but we are in in in in in in in in and very in, when it comes to quality! Badalamenti Cucina e Bottega is our favourite fish gourmet restaurant. Few tables, top list of wines, kind and professional service and some mithological recipes! Check this out…Arancino with shrimp served in a delicate spicy mussel sauce. Try it and let us know! Badalamenti is in Mondello area. Must know: you won't spend less than 50 euro per person.
Quattro Venti
Via Enrico Albanese 30 – near the industrial port / SSS
Te. 0916259187
Quattro Venti is located in the modern city center of Palermo. Elegant and relaxing. Food is wow and entirely cured, cooked and designed by a real chef. Great wines to pair. How to pair it? Ask the manager, he will recommend you do the right thing! In two simple words Passion and Professionalism.

MEAT LOVERS CLUB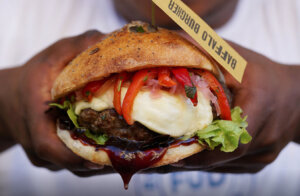 FUD – Sicilian burgers
Piazza Olivella 4 (downtown, 5 min walk from Teatro Massimo) / S
091 611 2184
Do you like burgers? You wanna try a real Sicilian one with top quality Sicilian products? FUD is the answer. Located in Olivella area, 2 minute walk from the opera house Teatro Massimo. At FUD you find delicious sandwiches, burgers and hot dogs made with the finest selection of Sicilian meats, cheese, vegs and cold cuts. At FUD you also have the chance to try donkey and horse meat. Sicilian craft beer available! 
Birrificio Ballarak  Beers and Burgers
Via Castrofilippo 20 (downtown, piazza Magione – Kalsa district) / S
Actually Ballarak is the one and only brewery downtown in Palermo. They brew more than ten different beers. My favourite is definetely the sour Glitch which has been also awarded in some Italian beer contest. The real brewery and bar is in Ballarò district, near the market, it opens at night and beside the excellent beer you find #foodporn burgers and sandwiches. The summertime Ballarak is located in piazza Magione (Kalsa district) but only for drinks.

BEST PIZZA IN PALERMO
Must know: pizza in Italy is a dinner food. You look strange to us if you have pizza at lunch. Now you know! Now check where to find the best pizza in Palermo!
Pizzeria La Braciera in Villa 
Via dei Quartieri 104 (outside the city center, to be reached by car / S)
Tel. 0916885444
Nominated multiple times as the best pizzeria in Sicily by a prestigious Italian food association. Definitely the best pizza in Palermo. Beautiful location, unforgettable pizza topped with top quality sicilian products. The pizzeria is pretty far from downtown but the taxi ride is worth it! Book at least 24 hr earlier.
Pizzeria Arte e Tradizione
Via Santa Teresa 2 / S (city center)
Tel. 0912524451
All tourists go to pizzeria da Frida to queue up. You don't need it! Near the port of Palermo, Kalsa district, there is a simple and laid back pizzeria with a memorable pizza and good draft beer. Suggestion: before you go to the pizzeria you can stop at Ballarak to warm up with a good locally-made beer.
Il Giardino degli Aranci
Via Torres 38 (in Monreale, need a car / S)
Tel. 0916402573
In Monreale where you will definetely go to see the golden mosaic cathedral. Well do this…go see the church in the afternoon. Shuts at 5 pm. Then take a drink at the belvedere on the way down to the city (few steps walking from the Duomo) and finally go have a pizza at il Giardino degli Aranci. Silent, relaxing, amazing pizza, good spilled lager beer and a beautiful open view on the gulf of Palermo.