Read below our tips to cook arancine/i on your own. Or if you simply want to taste them without too much effort… just book our street food Palermo tours or our Catania street food tours!
INGREDIENTS
1Kg of "riso Roma" Italian rice, 500 gr of minced or shreded veal meat, 2 onion, 3 carrot, celery, 200 gr peas, white wine, safron, breadcrumbs
THE BROTH – 2lt ☝️
Boil 1 potato, 1 onion, 2 carrots, 1 stam of celery in 2lt of salted water. Add about 0,5 gr of safron in powder.
THE RICE 1Kg
Toast the rice grains in a pot and then add the broth in it. Stir it for about 10 minute then cover the pot and let it cook in broth on low fire for about 15min. The rice will absorbe all the broth.
Lay the rice down on the table. *Traditionally it should be left to cool down on a marble surface for one night long! however, this is not really necessary. Just let it cool down to a reasonable temperature to work on it with your hands without getting burnt!
THE FILLING OF WHITE RAGU'
Make a sautèed with olive oil (cover the bottom of the pot) and 1 ground onion. Add a ground carrot and the minced veal, let it cook for 5 minute and the simmer with white wine until reduced. Add the peas and let it cook for about 40 min on low fire.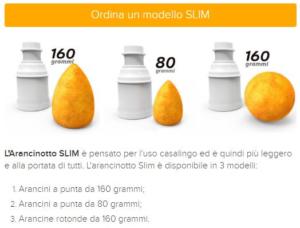 THE CREATION
Shape a ball of rice in your hands and make a hole in the middle. Gently rotate your finger in order to widen up the rice cratere. Stuff it with the meat and add some rice on the top and work on it with your hands in order to close the sphere of rice. The size of the arancina should be as a big as a lady's fist. If you don't want to take the risk, a Sicilian company invented the Arancinas' moulds!
THE BREADING
roll the arancina on the breadcrumbs and let it rest 5 minute.
THE FRYING
Deep fry the arancina in sunflower oil. The arancina must be entirely immersed in the oil in order to cook homogeneously. The arancina takes about 5 minutes to be ready but remember, before taking the first bite let the arancina cool down to room temperature, you will enjoy its taste better and you will avoid the grains to crumble in your hands!
now close your eyes, and enjoy it 🙂
HISTORY OF ARANCINA
The arancina (from "orange", in Italian "arancia") is a 1000 year old recipe. Originally a risotto brought in Sicily by the Arabs in the IX century, at the time of the Islamic empire expansion. When the Normans took over in Sicily, they decided to wrap and bread the arab risotto in order to consume it as take away lunch during their hunting expeditions.
And now…what's the correct name to call it? ARANCINA O ARANCINI? read this…