Do you have a few days to spend in Palermo and want to know the best tips from a local point of view? Look no further. Streaty has all your answers! The below suggestions are all meant to start and finish from Palermo, so consider them as day excursions and you can simply skip one or two if you are shorter in time or prefer doing other things on that day.

You don't know where to start and don't want to miss a thing? We are here for you! Book our Palermo Street Food Tour as the first activity in town. Our Palermo tours are ranked #5 in the world by Tripadvisor users…there must be a reason for it. Go to: Palermo Street Food Tour – Streaty
Day 1. Challenge your palate. Markets and Street Food exploration.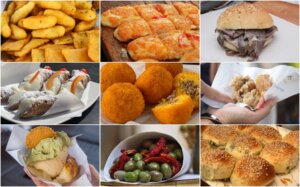 Visiting Palermo without exploring the markets and tasting the local street food is equal to not visiting Palermo. Palermo has 3 main food markets: Capo, Vucciria, and Ballaro
The bustling markets of Capo and Ballarò are the most ancient (X sec) and offer an amazing panorama of colors, scents, and flavors. If you are searching for your perfect Instagram post, these are the markets where you wanna hang around.
Vucciria on the other hand is just the relic of a market, however, it has now turned into a must-go destination for foodies. The main square piazza Caracciolo offers a wide variety of traditional street food and dishes in a very laid-back street mood. You can challenge your palate by tasting some boiled octopus (don't forget that the head is the best part of it!), or warm up beside the barbecue! Less adventurous travelers can remain in their comfort zone by ordering some fritters, pasta, fish, and sausages. Just make a wish, and wait for the dish!
The street food of Palermo is very tasty and varied. The Queen of local street food is the Arancina (a super tasty fried rice ball). The King is the famous pani ca' meusa or Spleen Sandwich, don't think twice, just go for it!

After trying the best street food and learning interesting stories about this beautiful city with other foodies, take the rest of the day to relax and have a night walk around the bar area of Kalsa. The Kalsa is one of Palermo's oldest quarters, dating back to the period of Islamic rule. Its name derives from the Arabic al khalisa, 'the chosen one' because within it was the fortified citadel of the emir and the seat of his court. Today, packed with churches, palaces, and squares, the Kalsa represents one of the hubs of popular culture and history in the city.

TIP: To experience its diverse urban vibe, head east from Piazza Sant'Anna and let the cacophony of the city be replaced by the sound of your steps on ancient cobblestones and laughter from the quaint little bars. There are photo opportunities on every corner, and the street art on Via dello Spasimo is a vortex of color and historic figures. In recent years, the neighborhood has been transformed into a hub of bars, eateries, and artisan boutiques. It's great for cocktail lovers: try bitter Sicilian orange liqueur and signature house spirits at Dal Barone or an aperitivo at Nautoscopio, which has a sweet seating area on a small beach.

Day 2. Get Romantic! Hike in Barcarello reserve and enjoy the best sunset!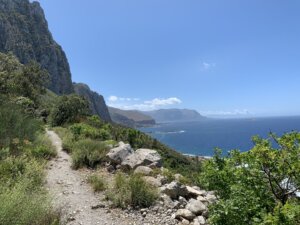 Want to admire the best of the natural beauty around Palermo? You can explore the Barcarello Natural Reserve and visit Femmine beach at sunset, or the other way around depending on your preference. Take the train direction Punta Raisi (airport). Stop at Sferracavallo station and walk to the Natural reserve of Barcarello (about 15 minutes). Tourists don't know this place and locals are too lazy to walk to it. The Natural reserve is magic, you'll have a majestic cliff on your right side and the blu water on your left side.
The Natural reserve faces west allowing you to enjoy the best sunset you can get from the Palermo area. A hiking path takes you higher for a more spectacular view. But I'm not sure you want to walk further on, especially in the summertime. Just sit on the rocks and wait for the sun to show!

You must be aware of two things:
1) The shore is rocky, so there is no comfortable sand to lie down on. Don't walk to this place on your flip-flop. Wear sneakers or hiking sandals.
2) Inside the Natural reserve there is nothing. So bring your beers, snacks, and water. There are a couple of food trucks at the entrance though, but only God knows their opening times!

If you want to continue the day to a sandy beach, catch the train again for one more stop and take off at the train station of Isola delle Femmine and walk to the beach (15 min walk).
In Isola delle Femmine, you'll find all the comforts (eg. restaurants, sunbeds) which makes it more comfortable if you want to spend the whole day at the beach (of course during summertime only :). Take a swim, relax and wait for the sunset. When we say sunset we mean the sun sinking in the water!!!! The colors of the sky will be your Instagram story!

If you want to make it even cooler than that, rent a SUP board at Isola Surf (about 15 euros), and paddle out from the coast to enjoy the sunset while sitting in the water! Mind-blowing! Sit at Il Miramare Restaurant for dinner (or lunch). When booking, ask to get a table facing the sea.

Day 3. Get Inspired! Admire art & history!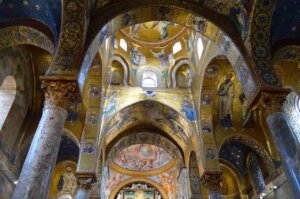 This activity certainly takes one full day and more. It depends on how much you love art, you can either spend one day or one month exploring the historical gems of Palermo. Golden mosaics, fine stuccos, frescos, morish architecture, gardens, and noble palaces…art for all tastes!
Being the most central and the biggest island in the Mediterranean sea, Sicily's history was marked by tens of different cultures: Greek, Islamic, Spaniard, Norman, and more.

We made for you a short list of the top five historical attractions that will give you a complete idea of Sicilian history:
– Chiesa della Martorana. XII century. Admire the golden mosaics, frescos, and marble. All in one cake!
– Chiesa del Gesù Casa Professa. XVI century. Your reaction will be WOW! Imagine a huge Italian cathedral entirely covered with colored marble.
– Duomo di Monreale. Monreale is a small town just outside Palermo, it is part of the city. The Norman cathedral of Monreale has delighted the eyes of travelers and wanderers from all over the world.
– Oratorio di San Lorenzo. Less famous but equally stunning are the Oratories decorated by the 1700s sculptor Giacomo Serpotta. There are a few in town, just start with the central San Lorenzo.
– Catacombs of Cappuccini. Have you ever walked around mummies?… This is your chance! You will walk underground surrounded by embalmed monks and nobles. Very spooky the children's room was dressed up from head to toe.

TIP: If you are short in time, you can do Days 2 and 3 into 1 day and enjoy your favorite UNESCO site attractions in the morning and take the train to only one of your chosen locations for the evening/sunset (Barcarello Natural Reserve or Isola delle Femmine beach).
Request a private Art & History tour. Write to info@streaty.com
Day 4. Get up! Walk up to the Shrine of Santa Rosalia

The 'Acchianata' (the climb, in dialect) is just under 4km long, about 400m in height difference, which believers of all ages walk on the night of 4 September, the anniversary of the death of Saint Rosalie, the patron saint of the city of Palermo, to reach the shrine dedicated to her at the top of Monte Pellegrino, the mountain that Goethe called "the most beautiful promontory in the world."
At this place of devotion dear to the people of Palermo, you will enjoy a panoramic view of the entire gulf.
You can choose to reach the top of the mountains walking at any time of the year, or you can arrive there driving or by bus (50 minutes long).
Later, the charming visit to Mondello a tourist stop par excellence with its white beach, liberty-style house, and numerous commercial activities.
Day 5. Get off! Excursion to Cefalù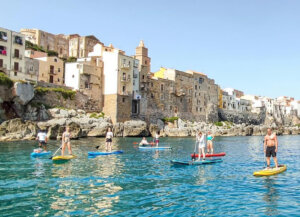 Cefalù is a very nice and easy destination for a day excursion, it is your escape from the chaos of Palermo city. Why is it a nice excursion to do? For the following reasons:
– It is at only 45 minutes by train from Palermo city center
– It has a beautiful sandy beach
– It has good restaurants facing the sea
– It has a beautiful Cathedral
– It offers perfect frames for your Instagram posts and stories
TIP: avoid Cefalù in August. It's too crowded.
If you wanna do something cool, the guys at Piranha Surf School organize easy excursions on SUP boards. You don't need to be skilled, it's enjoyable for everybody!
Where to eat Discover with Streaty where you should eat in Palermo!
Also, check out the article about Stanley Tucci in Sicily. Tops, Tips and Flops. – Streaty