We don't need to search for specific words in order to make up this blog article. The three reasons are basically the three terms that make a "street-food-tour" worth to do on your next Italian trip.
Our Venice street food tours are not made up to sell, nor to feed greedy tourists. A food tour is carefully planned to make foodies try local specialties and keep them away from tourist traps and their microwaves. Street food tours are getting very popular as activity to do for foodies when visiting a new place. But what's so special about it? Why going to Florence and challenging its tasty streets on a Florence street food tour.
1. Streets are unpredictable
The streets is where the history of the city is made, and food is big part of this history. Streets make the experience open to improvisation. It's not a rare case to meet funny street characters on our street food tour in Palermo: they pop out from nowhere to stop the group and tell a joke or share some food or simply to know where travellers are from. Mr Sandokan is a big men of the streets of Palermo. He goes around with a fake mic, he tighten up a red band around his head and pretend to sing random songs without knowing any lyrics!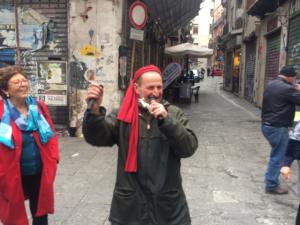 And what about the old men playing cards under the arches of Catania fish market. Fifteen people gathered around a table where only four men are involved in the card game. They bet the street reputation. Streaty guides don't miss any chance to step closer and make travellers feel the intense vibes of the moments. We guides love this, streets make our work so fun and dinamic. There is no day like the other in our open-air "office".
Wait a minute! Sometimes streets give you some stress too! Beep-beeps of scooters, shouts, some long stamina insisting vendor. But c'mon! this is just locals'daily life. Like it or not.
Streets are unpredictable, which sounds great for a traveller trying to step off his comfort zone.
Live the streets of a city, walk around, talk to locals, get a beer and people watch, get another beer and enjoy the moment. Streets are made to be walked…and eaten.
2. Street food is unique
First of all: street food is the nutrition of street people. Many of these specialties were born to calm down the pushing hunger of the mass.
Street food is a thing, local cuisine is another.
"Street food" is made, served and consumed in the streets, mainly standing. Street food happens and it's unique.
As for "local cuisine", it is made, served and consumed in restaurants or home and consumed comfortably sitting. Cuisine is generally available at a regional scale. Tagliatelle ai funghi porcini is a Tuscanian recipe, Panino al Lampredotto is a Florentine street food specialty.
Street food don't dare to enter a restaurant…and thanks God we say! We don't want to see people eating Venetian cicchetti with forks and knives, which we did see before.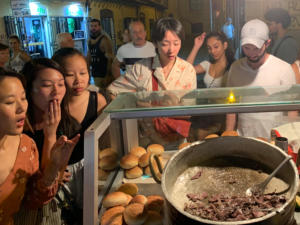 Street food is unique. Every city has its own street food culture which is directly linked with the history of that specific cities. For instance, the street food of Palermo is different from the street food of Catania, even though the two cities are located in the same island. You won't find frittola in Catania, you won't find cipollina in Palermo.
Trading, wars, immigrations, colonizations, these are the factors that boosted the growth and spread of certain foods in Italian cities. Cod fish bites of Venice, fried coccoli of Florence and the chickpea panella fritters of Palermo are open books.
3. Tour is not for stupid tourists
Oh my god! A Tour?! Tour is for tourists! I'm a traveller! I walk alone with my backpack! The question is where do you walk to, walk in, walk off?
We all feel we are the coolest independent travellers in the world, especially nowadays. We read blogs and guidebooks written by other cool travellers who spent a full week in a place and feel entitled to make judgments about local cuisine, culture and habits. With all respect…nobody can. Blogs and guidebooks give you a tourist perspective, but only locals know. And by the way, there are no cool travellers. We are all tourists.
Now, if you have enough time to live a city, then go with the flow. If you have a local friend in the city, bingo! But if you are on a trip and you really want to get the best of a place right here, right now, there is nothing better than joining a tour. Not saying any tour, I'm saying the right tour for you. 
Local guides give travellers what I call the "Matrix effect". Do you remember the movie? when suddenly reality makes sense? When Leo sees 1ab-x11y-0-00yeht0-1001 and finally decodify real life?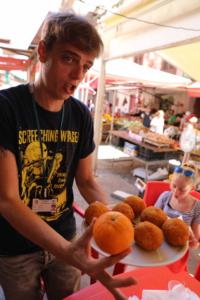 This is what a local guide can give and it will make the difference on your trip. Let me underline again…a local guide. Beside the matrix effect, a tour makes you also maximize your stay in a place. Food tour companies select food stalls and restaurant that anybody can reach, but the point is that you only have 3 days to explore a city! Will you make it to find the best food spots?
By the way, it's true, many tours are made for tourists. You see big groups roaming around like zombies to get a piece of bread a slice of cheese.
A street food tour instead must go with a small group. Street foods are served in small stalls and modest bakeries, there is no space for big groups. So, once again, don't pick a tour, pick the right one.
Conclusions and tips…
Food tour companies are not made of robots. Food tour companies are made of travellers and passionate foodies. Trust them. Guidebooks are useful but pages are printed and so will remain for years. Tours are alive, they happen now and can suddenly raise the quality of your foodie trip. Local guides give you insights like no-one else. Streets make the rest.
Soooo….What about you? How can you make the difference in this movie? Choose the right tour for you and make sure you hire licensed guides. By doing so you will support the local economy and make our fried food fry forever! I will give you a last but crucial tip. You wanna save money?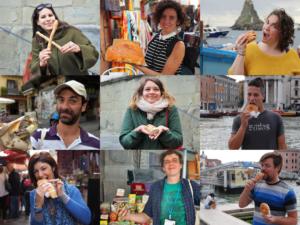 book the tour directly with the company that executes the tour. Prices published on food tour companies' websites are usually cheaper than the ones you find on Viator, Getyourguide, Airbnb and other marketplace websites. Not only this! Companies offer discount on combo bookings and above all, you have a direct contact with the people executing the tour…real people, your new friends!
Stay Hungry, Stay Streaty!