Cosa è incluso?
4 Different Spritz drinks
4 Local Tapas
Guided Walking Tour
10% Discount on more tours
Informazioni
Every Wednesday and Saturday
Campo San Geremia
2.5/3 hrs
max 8
English
Adatto ai vegetariani
Non adatto per vegani, celiaci e allergici ai latticini
Cancellazione gratuita fino a 72 ore prima del tour
Reviews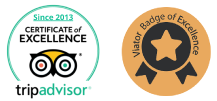 "Great tour!" Toby (USA)
The Spritz tour with Federico was very cool! I found out there is a world of Spritz out there
"Great Concept!" Shae (AUS)
Drinks were amazing and food was delicious! Federico is very engaging and charismatic and makes you feel like you're out drinking and eating with a friend.
"Spritz love" Anne (USA)
Our guide Anna was outstanding!!! The Spritz were delicious and surprising! The time went by so fast!
Descrizione tour
To spritz or not to spritz? the answer is inside yourself and it says…spritz your life!
Welcome to the one and only spritz tour of Venice, your chance to discover all the secrets of this legendary drink and taste new spritz styles!
What you'll do
You will meet your local guide in Campo San Geremia at 5.30pm ready to hit the spritz road! Before raising the first glass, we will walk you around the Jewish Ghetto of Venice and show you some interesting gems unknown among tourists. See this experience as your aperitive time with your Italian friend. You will visit 3 different selected cocktail bars and try 4 different types of spritz. Most of foreigners only know two types of spritz: Aperol and Campari. Well, forget them! these are not what Venetians consider traditional spritz! We will take you to our favorite cocktail bars where making cocktails is not a simply a service, it's a serious business. Have you ever drunk a green spritz? on the Ultimate Spritz Tour of Venice you will! At every stop you will try a different variety of spritz paired with a local tapa (cicchetti). As you sip and enjoy the moment, we will share with you stories, facts and interesting curiosities that lie behind the drinking culture of Venice. The tour isn't just about drinking! We also enrich the experience with interesting information in order to make you feel the real Venetian street spirit. Why doing this in Venice? because the spritz is a traditional drink of Veneto!
What you'll drink
On the spritz tour of Venice you will sample 4 different types of spritz all mixed with local aperitive drinks. You will also samples 3 different tapas to help you handle the alcoholic drink 🙂
Prenota ora