What's included?
Guided walking tour
Street Food samples
Seasonal fruit or vegetable
Seasonal dessert
2 drinks
10% discount on more tours
Key information
Every day on request
Cathedral of Palermo
3 hrs
max 8
English only
Suitable for vegetarians
Not suitable for pescatarians
Free Cancellation up to 72 hrs before the tour starts
Reviews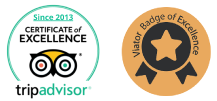 "fresh fresh fresh!" Jaime (MEX)
We are so happy we found Streaty! Lovely walk, super fresh and tasty food and great company!
"For vego foodies!" Tim (UK)
We just trusted our guide and we are so happy we did it! The food was amazing...and so our guide Marco!
Tour description
There you go! The vegan street food tour in Palermo is finally reality!
My dear Vegos, we have designed for you a very cool exploration of the Ballarò market in search of the best selection of fresh and juicy products of the Sicilian fertile land. Three hours roaming around the market and its surrounding to experience the slow life of Palermitans and taste the tastiest street foods!
What you'll do
Meet us at the Cathedral of Palermo before hitting the…alleys! Our walk will take you straight into the heart of Ballarò district. You will meet the families of Vicolo Brugnò, renowned in town for their intimate celebrations of the local Patron Saint Rosalia. As we walk down the shady alleys, we will tell about Palermo and its legendary characters, like the one and only Cagliostro. Our first stop will be dedicated to a classic of Sicilian cuisine, the eggplant caponata strictly scooped with crunchy bread, just the way Sicilians eat it. The caponata brings inside all the traces of the past dominations that Sicily witnessed in its long history.
Sit back and enjoy your Streaty guide stories. And hey! it's a private tour, so anytime you have questions, just go for it!
The vegan food tour of Palermo goes on as we dive deeper into the thousand year old market of Ballarò. We will introduce you to the traditional cucina povera of Sicily through its seasonal products. We will not miss a chance to grab and bite some fresh fruit or vegetables along the way. This unique vegan food experience becomes more and more intense as you discover the flavors of Sicilian street food. The vegan street food tour of Palermo cannot skip a  bite at the soft Sfincione pizza with tomato and onion sauce. We will stop at our favorite vendors where quality and authenticity is the rule number one of their business.
The Ballarò market is definitely the most instagrammable of the local markets, its overwhelming sounds, scents and colors will just make your day! But it is also the market with the most numerous amount of tourist traps. This is something you should not worry about, We will take good care of you!
The vegan street food tour of Palermo includes some very cool discovery, like the visit to the local candy factory. If you are lucky you will be able to see the candy masters at work and of course try some of their daily creations!
There is more fresh food to come before we reach the end of the Ballarò experience.  Can a food experience end without a sweet ending? of course not! The final coronation of the vegan street food tour happens in an old-school pasticceria.
What you'll eat
On Streaty tours we only offer traditional and regionals foods. So you will try a complete bouquet of Sicilian flavors. We can guarantee that there is not product coming from animal derivatives on this tour. The amount of food offered on the tour substitutes a full meal. You will eat the traditional caponata with mixed vegetables and its inimitable taste of agrodolce. You will try the seasonal fruits or vegetables picked straight from the benches, some traditional baked street food and the Sicilian panini with fresh tomatoes and extravergine olive oil. A final dessert will close the curtains. The tour also includes 2 alcoholic drinks.
How we do it
This tour is simply a walking tour with a vegan food offer. It is not a tour that complies with all the vegan ethical principles. We respect everybody's choice to eat or not to eat certain foods based on their own ethics and tastes. On streaty tours we offer only regional and traditional food, no matter what. So in other tours you will find all sort of fish and meat. We have decided to offer a Vegan food tour because we are happy to give everybody the chance to enjoy the inimitable Sicilian cuisine. You also must know that In the market of Ballarò you will see fish and meat on sales (including animal offal). The same vendors who serve us vegan food, also sell meat and fish dishes. If you think that the way we operate may hurt your sensibility, just skip this tour and let's remain friends.
Why join this tour

EXPLORE Ballarò market with a local expert and avoid tourist traps

TASTE the freshest and the most authentic vegan food

LEARN about local history and street stories

DISCOVER some hidden gems you wouldn't find on your own

GET the best tips to enjoy Palermo and avoid tourist traps
Book Now