What's included?
Guided walking tour
6 wines
Food samples
72 hr cancellation policy
10% discount on more tours
Key information
April to October at 6.15 pm
Meet us in Piazza Pretoria
3 hrs
Private tour only
English only
Suitable for vegetarians
Vegan, gluten / dairy free options not available
Free Cancellation up to 72 hrs before the tour starts
Reviews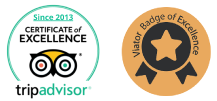 "Great Experience!" Donna (US)
We were in Palermo for our honeymoon and the wine tour with Marco has been the highlight of our trip! Super informative, fun, and great wines!
"A wine dream" - Nathan (US)
So I could sum this tour up in three words: absolutely amazing experience! Daniela is a friendly and knowledgeable person. This tour is every wine enthusiasts' dream.
"Highly recommended!" Sean (US)
Daniella is an excellent guide. She personalized the tour with photos of the wineries and the families who operate them.
"Amazing!" Benjamin (UK)
We had the most amazing time with our tour guide Daniella. The tour is totally value for money. Book it or you will miss out!
Tour description
What about dedicating one night to the warm pleasure of wine? The Palermo wine tasting tour is all your palate need to enjoy the magic world of Sicilian wines! Join our small group wine tasting tour of Palermo guided by a local laid back Sicilian wine expert. We will take you to three different wine bars.
What you'll do
Our travelers love the places we selected for the wine tour of Palermo and here is why. The first place where we'll take you is also the place that offers the best 360 view of the city center of Palermo, no other spots in town are comparable to this. You will enjoy the best view of Palermo with a fresh Sicilian sparkling wine…how about that!?
Every wine tasting moment come with some fine bites, fried vegs and fish, cheese and meat. At the second stop you will comfortably sit in a beautiful and cozy restaurant for a more structured wine tasting of four different Sicilian wines, from the elegant whites to the structured reds.
We will guide you through the tasting of each wine and share interesting facts and curiosities about the producers. The third and final stop takes place at a small wine bar for a glass of dessert wine and Sicilian dry cookies.
It's our tradition now to dedicate one moment to share personal funny wine stories. We can't wait to hear yours!
In only three hours you will get a complete bouquet of the Sicilian wine production. All of this will happen in a relaxing environment. Just sit back, sip your wine, taste the food and enjoy our stories!
During the wine walking tour of Palermo you will also have the time to admire some beautiful historical square and learn about Kalsa, the old arab district of Palermo.
What you'll drink
During our Palermo wine tour we will offer you a selection of 6 different Sicilian wines: one sparkling wine, one dry white, one rose, two reds and a dessert wine. And food comes along, you will enjoy an interesting selection of savory and sweet bites, fish, vegs, cheese and more.
Why join this tour

 ENJOY a relaxing walk around the Kalsa district with a local guide

TASTE 6 different wines and learn about Sicilian wine production

LEARN the basic technics of a proper wine tasting

TRY some fine bites paired with the selected wines

 DISCUSS wines in a relaxed environment

GET the best tips to enjoy Palermo and plan visits to wineries
Is this the right tour for you?
✅ This is the perfect tour for foodie travelers who want to try new flavors, learn about local culture and make new friends.
❌ This tour is not suitable for:
Travelers who don't drink alcohol
Children
Vegan and travelers allergic to dairy or gluten
Book Now